she spent her life being about her Father's business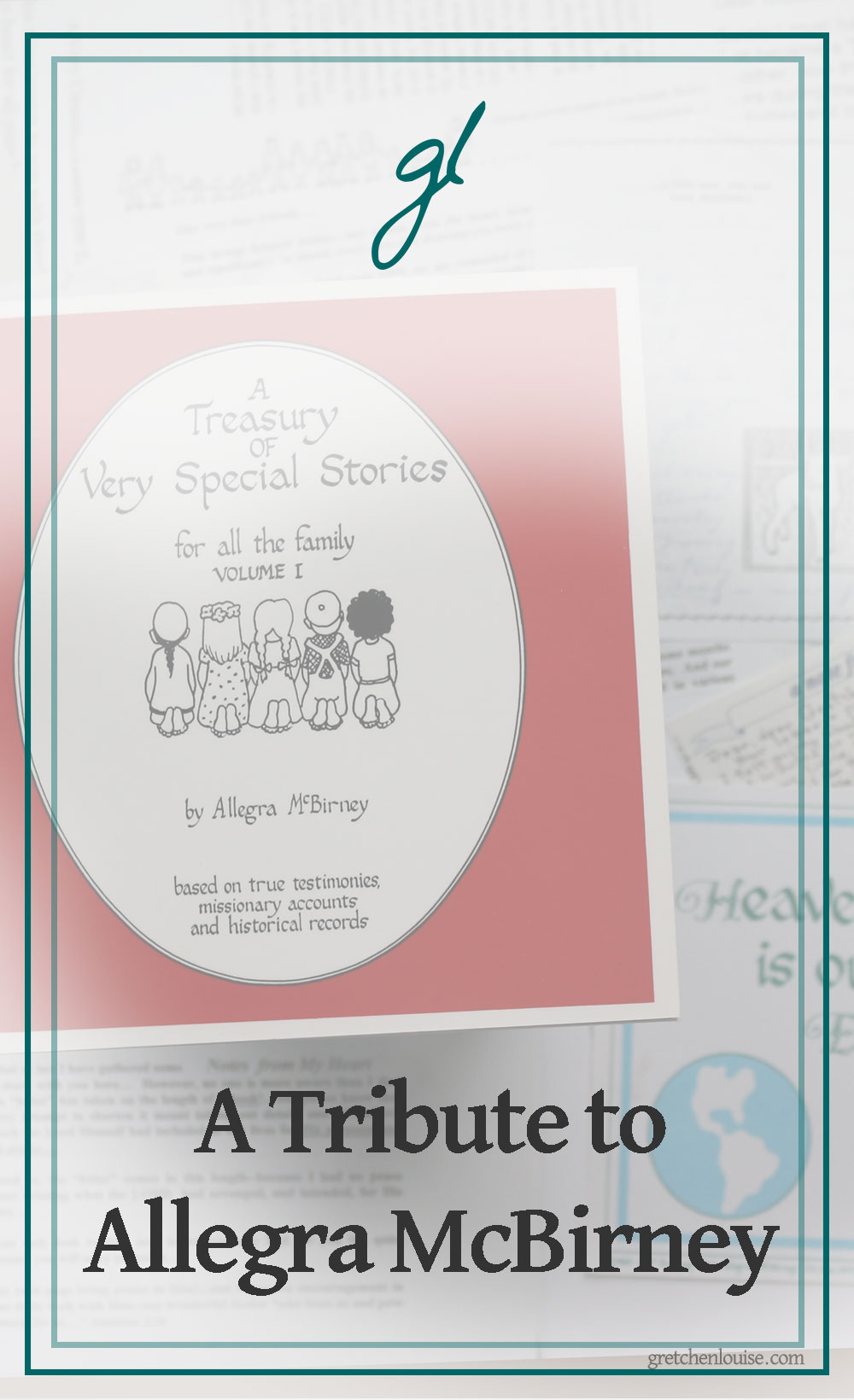 My dear friend Allegra,
Oh how I'd hoped to give you a hug this side of Heaven.
But you touched my life from afar. Just like you did the lives of so many others.
From that very first letter you wrote to me when I was a tween girl hoping to find your program on a local radio station… You sent me cassette tapes of your radio program "A Time for Sharing" which I'd always enjoyed at my grandma's house. I'll never forget your voice telling the story of Mrs. McGuffy and the way she kept her chicks safe under her wings.
I in turn sent you my fledgling attempts at writing and publishing. And you cheered me on with such encouraging words. You took the time to write personal letters in which you shared nuggets of the wisdom you'd learned by experience, speaking of how you measured the effectiveness of your ministry, and of how, "when the Lord guides, He provides."
You faithfully sent newsletter updates in which you told the stories of cross-country speaking tours with your Great Pyrenees dog Snow Bear. And of your "one-person publishing ministry" in which you arranged translation of your books in areas where there was extreme spiritual need. Each letter was full of praise for how the Lord had led you to just the right co-laborer for Him in the area where your books were being requested.
Then there were the letters that told of your dear Jack's struggle with Alzheimer's. And the joy with which you acted as his full-time caretaker, even though he no longer understood who you were.
And in the midst of your own cares, how you delighted in my love story with my farmer husband! You loved to recount to me God's goodness to you and to me, in giving us each a dear husband and sweet children.
You took time to send gifts at the births of each of my four little ones. The vintage dresses. The tiny infant t-shirt that said "I'm a little love present from the Lord." The little wooden farm set you said you'd saved for me for years. And the books. Your precious books.
You sent me copies of Little Stories from Mike's House. You gave us the collections of God's Amazing Animals and A Treasury of Very Special Stories for All the Family. Your sweet stories told of God's goodness and presented the Gospel with simplicity and clarity, each one a "missionary-in-print" as you called your books.
In every letter I could hear your enthusiasm. In every story I could hear your passion for the Gospel. Your joy in the Lord. Your love for His people.
I know I was just one of so very many to whom you ministered through correspondence. (And before you were my friend, you were my grandma's. You exchanged so many letters and phone calls: Grandma treasured your friendship so!)
Even when the later letters came, when you admitted to the health struggles that kept you in bed and took so much of your energy and even your eyesight. Yet–through large-print letters–you rejoiced at how you could still serve the Lord, as a "90-year-old palm tree that bears fruit in old age" (Psalm 92).
You spent your life "being about the Father's business." From the time your family spent as missionaries starting a church in Newfoundland to your ministry to military wives. From your radio program "A Time for Sharing" to the books which you wrote and illustrated. And how you treasured the gift of ministering to the six children the Lord gave you (after doctors said you would never have any)! Then, as your sixty-one years of marriage to Jack drew to a close, you wrote that your first ministry for the Lord was caring for Jack and your second ministry, as you found snatches of time, was publishing: "Making certain that the Lord I love with all my heart is glorified on every page."
You were a shining example of a woman who fears the Lord–and none other.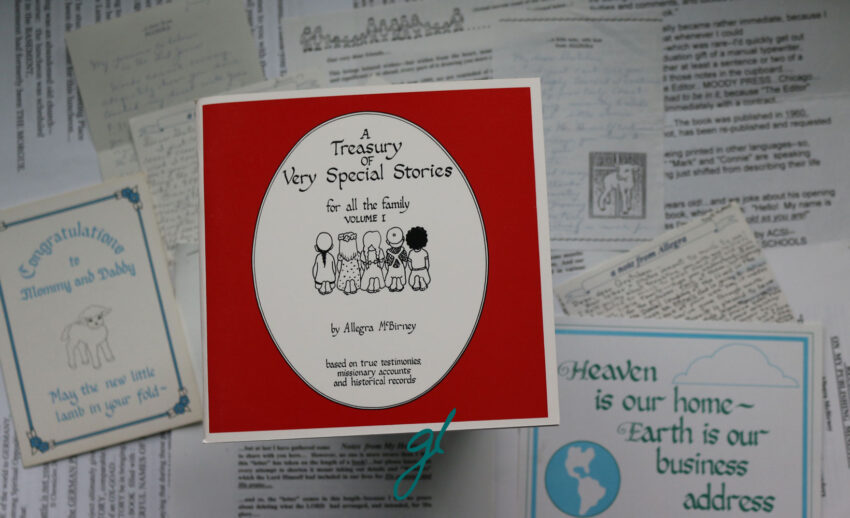 I had it above my desk for years. And now it's waiting for a frame of its own in my new office. Your card that says:
"Heaven is our home ~ Earth is our business address"
Your business here on earth was finished, friend. You fought the good fight. You finished the course–at ninety-two years, ten months of age. You kept the faith.
I'll be looking forward to finally getting that hug when I join you at home in Heaven.
Because He Lives,
Gretchen
P.S. You sent me a mug many years ago. It got dropped and broken a few years ago, but I searched out another on eBay, because the sentiment fit our long-distance friendship so well. The mug says:
"In my Father's house are many mansions… I hope yours is next to mine."
Read more about Allegra's life and ministry (including many quotations from Allegra's books and excerpts from her letters) at KindredGrace.com. Find out more about Allegra McBirney in this biography compiled for AllegraMcBirney.com.