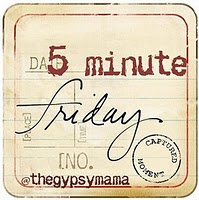 It's the dirt and saw dust and chainsaw bar oil on my daddy's clothes and hands and face every night when he came home from work.
It's the way my husband's kisses taste of sweat and soil, the way his laundry has the lingering traces of manure and mud.
It's the way my brother works his jaw when he's thinking hard, forming an argument of law or logic.
It's the way our soldier brother grits his teeth and doesn't grin and bears it for the love of country and of freedom.
It's the way my grandpa rubs the callouses off his hands with sandpaper.
It's the way my papa gets up at 4:30 every morning and underlines verses in his Bible, with a coffee cup and 3×5 cards.
Dirt and determination Strength of muscle and of principle. If character is epitomized by a love of family and of doing a job right, the men in my family embody true grit.
Five-Minute Friday: "Grit"
(handwritten on lined paper while traveling last weekend…
five minutes doesn't allow for an all-inclusive list!)