"Miss.  Daddy.  Miss.  Miss."
Her one-word sentences threaded together with long pauses and much emphasis on "miss" melt her daddy's heart.
We all try to give him a warm welcome when he comes home.  Sometimes, I can't get up from nursing or holding a sleeping babe, but he comes over and leans down to kiss me where I sit.  Sometimes, he's unavoidably late and his dinner's quite done and the girls have theirs half eaten.  Sometimes, my welcome-home kiss is more of an "I'm-so-glad-you're-home-and-there's-another-big-person-to-help-me-in-this-crazy-mess" than a serene wife meeting her husband at the door to welcome him home at the end of a long day.
But he's home safely, he's tried to get there as quickly as he could, and he's made the decision to spend his evening with us—even though it's loud and crazy and messy and filled with dishes and baths and not much rest until we get everyone in bed.
He's home.  And we welcome him.  Because we don't ever want to take it for granted.
And my girls never do.  No matter what we're doing, my announcement of "Guess who's here?" is met with joyful screams of "Daddy!?!" and excited running to the door on the part of two little pairs of feet.  And then there's Mary's statement: "Miss.  Daddy."
She missed her daddy.  And she's ever-so-glad to welcome him home.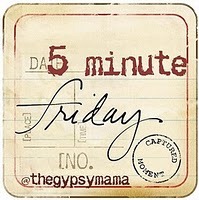 Five-Minute Friday Prompt: Welcome