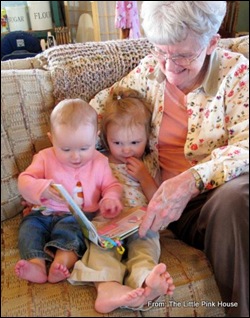 My grandparents came to visit last weekend. For once, things weren't too busy on the farm. We weren't remodeling. Or cleaning up the garden for the year. We had time to just visit.
We sat and drank tea—hot tea, iced tea, and watery tea from a tiny aluminum tea pot—and talked about theology and marriage and manners.
Great Grama brought fun new books for the girls. And we found a few more on our now traditional visit to our favorite bookstore.
We dressed up in springy dresses for church on Sunday—Ru in one of her aunt Jessica's old dresses, Mary in one that was mine. We soaked up the sunshine outside church. We lingered over a Sunday meal out at a new favorite restaurant. We came home and made the first homemade ice cream of the year.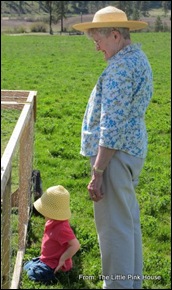 Grama tried to help me hang out my laundry, but spent most of her time helping Ruth up the slide—over and over and over again. When Papa was around, he patiently stood sentinel by the slide—Ru's favorite playtime activity, but not one she can do safely alone.
Mary kicked in the lawn, snuggled with Great Papa, turned pages when Great Grama read to her, and generally charmed her great grandparents anew with her adorableness.
Ru and Great Grama watched the chickens together. Ru fed them grass and pointed out all their antics to Great Grama.
Papa not only distributed top soil and planted grass around our addition, but he washed my windows and tightened my clothesline, and all those other "honey-do's" that he's always so good at doing.
It was a delight to have our first company since the completion of our remodel. No more sitting outside or going back and forth to my in-law's so the girls could take naps! We did visit my in-law's during one naptime, though, since Grama had never seen "Miss Potter." We remedied that with my in-law's television, and had a regular old girl party complete with tea.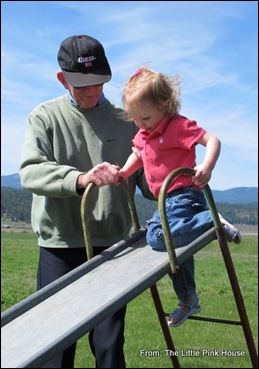 Tea parties. Books. Reading. "'Prizes" (surprises). Their visit was the highlight of Ruth's recent memory. Whenever she and her daddy draw pictures on her "'puter" (magnetic drawing board), she always requests a picture of Great Papa first.
I grew up knowing all my great grandmothers, but only one great grandpa. My girls are so blessed to have all their great grandparents save one Grandpa. I cherish those few memories—many recalled only through photos—that I have with my great grandparents.
The best thing about great grandparents is that they aren't busy: they ha ve all the time in the world to spend with their great grandchildren.
But what those great grandchildren are still too young to understand is that they don't have all the time in the world. And as they have begun to discover, their great grandparents live in another part of the country and can't come visit every day.
So we take lots of pictures. Because such visits are what memories are made of.