Hey, Hey, Good Lookin', whatcha got cookin'
How's about cookin' somethin' up with me
Hey, sweet baby, don't you think maybe
We could find us a brand new reci-pe.
Hey Good Lookin' Husband of Mine!
I wish I could remember which visit it was that I first saw this little oven and it became "ours". It must have been that fall when we celebrated our twenty-second birthdays together. All I know is that I said the yellow diner table was cute and before I knew it, both the table and this adorable little oven were being referred to as "Merritt and Gretchen's", whereupon I always turned red.
I remember you calling me, once we were affianced and you were building our house, to tell me the tiny interior measurements of our little oven. We had a bit of trouble finding cookie sheets that would fit inside it. You found that out because you wanted to test it, to make sure it really worked—and most of your mom's cookie sheets didn't fit! You burnt that first pan of cookies, discovering that the oven preheats by starting out on broil. But every batch of cookies since then has baked beautifully in our little Monarch.
I adore our little $10 oven. That garage sale find we never paid your parents for. I love the memory of cleaning it out with you when we were newlyweds. How you scrubbed and unscrewed and got every nook and cranny clean, then leveled out the legs so that it was the same height as my beautiful countertops.
You even had Uncle Bill plan the cupboards so that if we had to replace the range, the last section could move over to make room for a larger one. And oh how we laughed when we realized how perfectly the oven clock fit under the switch plate—and we'd never even though to measure!
Yes, that oven clock—one must make sure not to adjust the timed-cooking knobs. That was the one time I thought my oven had failed me. I'd actually, shock of all shocks, cleaned the entire exterior of the oven (I'm sure you were helping—you always do, or rather, I never think to clean it until you do!). And in the process, I'd moved a knob. Which meant that the oven didn't think it was supposed to turn on yet when I turned it on.
We did finally have to spend some money on the stove when one of the burners started flaming. That was when we discovered it's unique coils and slightly different wiring system. You re-wired all the burners, because you're amazing like that.
We have fun looking through that original user manual. Not that we love old cook books or antiques or anything like that.
There's no way to keep from thinking about you when I'm cooking. (As if I'd have it any other way.) There, atop the little oven we've spent so many hours over together, sits my favorite green tea kettle, next to the cast iron skillet you got me. There's the orange canister you surprised me with one time, after my sunflower utensil holder had nearly toppled with its load (since then, somehow, they've both filled up—thanks to you always finding me one more spatula or spoon at our favorite kitchen store).
The timer we found at a garage sale together. The bacon grease can only you ever remember to use. Every little bit of my kitchen holds so many happy thoughts of the man I'm cookin' up dinner for. And a glance out the window tells me that you're on your way home, lookin' for something to eat.
I love you, hubby-mine. And I love cookin' for you.
With love,
your cook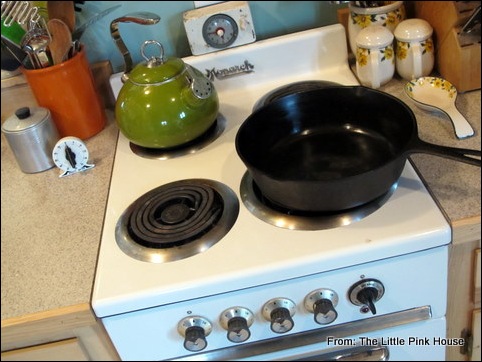 It ain't the stove, it ain't the heater
She's hotter and a whole lot sweeter

Her arms are open, the house is probably smokin`
'Cause I left something turned on at home