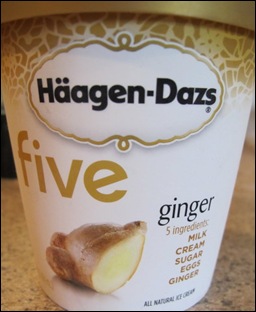 "What is it with women and ginger?" my husband wanted to know.
He'd been to town, and returned with our favorite treat: Haagen-Dazs!
We love it when those little 14 oz. containers go on sale. They still cost more than Dryers or Tillamook. But they are so creamy and rich you only need a few bites—so they're really cheaper, in our estimation.
Besides, since it's just the two of us, we don't even bother to dish it up into bowls. We grab two spoons and our flavor of the evening and enjoy the lusciousness together, propped up in bed. If only Ruth knew…!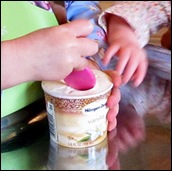 (Actually, one time she did get a special treat, thanks to a coupon: "baby ice cream" she called it. And oh how she loved it! She tried to share it with her baby sister, but Mary wasn't so sure about iced cream!)
But to return to women and ginger. My dear husband, knowing my affinity for all things ginger (from cookies to Christmas to salsa), had snatched up the latest Haagen-Dazs flavor he saw at the grocery store: Ginger!
Our perennial favorite is Dark Chocolate. So I wasn't sure about Ginger ice cream. I'd had Sees Glaced Ginger chocolate candy before, and they were a bit too strong.
But in true Haagen-Dazs style, the Ginger "Five" was smooth and creamy, not too sweet, with just the perfect amount of ginger tang.
And of course, it was most delicious alternating bites of Ginger Haagen-Dazs with Dark Chocolate. (My hubby preferred to mix his bites of Dark Chocolate with his personal Cherry Vanilla—but I don't believe cherry and ice cream go together!)
In line at the grocery store, the ladies behind my husband Merritt noticed his ginger ice cream and asked, "Oh, have you tried that before?! It's delicious. It only has five ingredients! It tastes so good."
He could only laugh and say his wife liked ginger.
What is it with women and ginger?
I don't know. But whatever it is, it's similar to women and chocolate. Dark chocolate.