Your WordPress Questions, Answered
If these 31 days "inside" WordPress have left you with more questions than answers, then you've come to the right place. I've compiled some of your most FAQ in this post. And when you have more? Just comment and ask! I'll do my best to answer them.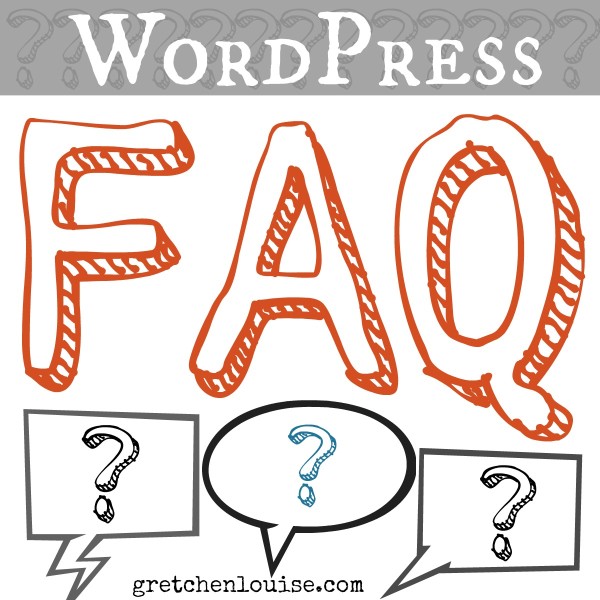 Social Media & Blogging
What's the best way to share my blog posts on social media?
The best way to share your blog posts on social media is to share them manually. Especially when it comes to Facebook. The secret algorithms of Facebook seem to give preference to posts created within Facebook, rather than posts created in a third-party app like Buffer or Networked Blogs. You can use apps to automatically post your blog posts to your Facebook page, but the more posts you create that are seen by few people, the less your posts will be seen overall.
Twitter doesn't care what app you use to create your Tweet in, but your Twitter followers might care if they appear too automated. If you auto-Tweet both new and old posts, be sure to put "new post" before the new post Tweets, and use a hashtag or other note to indicate that old posts are from the archives. (Networked Blogs is an option for Tweeting new posts. Tweetily is a great plugin for Tweeting from the archives.)
How do I get social media buttons in my sidebar?
You can use a plugin like Simple Social Icons or Social Sharing Toolkit. Or, you can use completely custom social media icons. Search Google for "free social media icons" and you'll find that your options are endless. However, there is growing concern about the legality of using custom social media icons. Be sure to read the terms of use for each network's icons before you make your decision.
To install custom social media icons, upload them to your Media Library. Then you'll need to add some HTML code to a Text widget that will point to the source images and link the images to your social media icon. (Check out the copy and paste code in my HTML guide that you can adapt to your own image links. I also provide ready to use code with the official follow buttons from each network—just change my links to yours.)
Should your about page be about you or your blog, or you in relation to your blog?
Great question! I've seen it done numerous ways. Some sites have "About me" and "About This Blog". I have an about page in relation to my personal blog and in relation to my technical tips and services. "About this blog" could include disclosures or those could be in a separate page, too. It's up to you–just make sure it accurately reflects you and your style!
General WordPress
What's the difference between categories and tags?
I love WPBeginner's analogy: categories are like the table of contents, tags are like the index. But I wrote a whole post trying to explain the differences and uses: The Differences Between WordPress Categories and Tags.
What widgets are best?
A search widget is an absolute must! I like to see a follow widget, a recent posts widget, categories list, and of course a widget to allow me to subscribe via email. For more on widgets, check out my post 5 Things You Should Know About Your Blog Sidebar.
What features could drive people away from my site?
The first things that come to my mind? Background music. Slow load times. Colors that are hard on the eyes. What about you?
What widgets make you look new or unprofessional?
Definitely the "Meta" widget!
WordPress.org
How can I check my site for broken links?
Broken Link Checker is a great plugin for WordPress.org users. It monitors links in existing and even scheduled posts, and emails you when it finds any broken links. The Bulk Edit features make it easy to correct lots of broken links with the same pattern at the same time. If you're using WordPress.com or Blogger, try out W3C Link Checker or Free Broken Link Checker.
I've moved from one domain to another—how do I change my internal links?
You can use Broken Link Checker to replace any link pattern, whether or not it is reported broken. But you can also use Search Regex—it's a powerful plugin, though, so be careful (and make a backup first). Just search for http://youroldsite.com and replace it with http://yournewsite.com. You can preview the changes before you click "Search and Replace".
Can I use an editorial calendar within WordPress?
Yes! Some people may work better with a printed editorial calendar (Pinterest is filled with them), but I love seeing the posts themselves filling up the editorial calendar. EditFlow's Calendar allows you to drag and drop post drafts between the dates. Editorial Calendar only allows you to see and move scheduled posts. So sometimes, when I don't have any drafts yet and need to plug all sorts of ideas into place, I simply use Google Calendar. (If you're working with a contributor blog, an editorial calendar inside WordPress or on Google makes it easy to share the upcoming schedule with your team.)
Is it possible to uninstall and re-install WordPress?
Yes. You can go to the updates page and click "Re-install Now". You can also do a manual update/reinstall via FTP by following the directions from WordPress.org. But do so with care–and make sure you have a backup!
Moving to WordPress.org
What are the advantages to going to .org versus staying with wordpress.com?
WordPress.com works great for the hobby blogger. If you're looking to monetize your site or pursue publishing, you'll want a .org site. I talked in depth about the advantages and disadvantages in these posts: The Differences Between WordPress.com and WordPress.org and Why Friends Let Friends Use Blogger and WordPress.com.
How can I switch from Blogger to WordPress for minimal cost?
Do it yourself—with lots of help from Google! You can take advantage of sales this time of year, too. Here are the basic steps for transferring your content. (If they sound too complicated, email me for a Blogger to WordPress migration quote.)
Purchase your WordPress hosting during Black Friday sales (through one of my affiliate links, if you'd be so kind).
Follow one of the 1001 tutorials that can be found by searching for the famous "5 minute WordPress install".
Follow one of the 101 tutorials that can be found on Google for moving from Blogger to WordPress.
Content yourself with one of the free themes until you can purchase a theme like Canvas to fully customize your site's theme.
Can I deactivate the Blogger Importer and Maintain Blogger Permalinks plugins?
Yes! Once Maintain Blogger Permalinks has been run, it's done it's job. And once you've imported all your blog posts and comments, you're done. Deactivate and delete them. The only time you wouldn't want to delete a Blogger Import plugin would be if you were using Blogger 301 Redirect, Blogger to WordPress, or a similar plugin that actually handles the redirection from Blogger permalinks to WordPress permalinks.
WordPress.com Questions
What does it mean to be Freshly Pressed?
It means you're one of the eight bloggers WordPress.com chose to feature that day. Check out the full scoop on being Freshly Pressed.
How good are the writing prompts from WP (and how can I find them)?
I'm a big fan of the Five Minute Friday writing prompts from Lisa Jo Baker, so I haven't even tried the ones from WordPress. Anything that gets the creative juices flowing and helps you get the first words on the page is a helpful tool—even if you end up deleting the word that was the original prompt. Find WordPress.com's writing prompts at The Daily Post. You can also click "Inspire Me" when you go to compose a new post for a photo prompt.
How do you use the help center at WP (and how helpful is it)?
Just visit support.wordpress.com and type in your question. I've actually found it very helpful, and more beginner-friendly than WordPress.org's documentation.
Should you follow everyone that follows you back out of niceness?
Nope! I'm not a fan of the "follow me and I'll follow you" concept. If I genuinely want to follow someone, whether their blog or their Twitter account, I will. The fact that I'm following it doesn't mean I'm reading it and the fact that I'm not following it doesn't mean I'm not reading it.
If you're using WordPress.com as your blog reader, then you definitely don't want to follow everyone—your reader would be overflowing with posts that you may not want to read.
How does WordPress.com figure out my follower count?
Your followers as seen in your Stats tab (http://wordpress.com/my-stats/) are the people who follow your blog (or blog comments) in the WordPress.com reader or via email.
If you've connected your Facebook and Twitter accounts via Publicize, your followers include your social media followers (since Publicize is set to auto Tweet and share your posts). That's what inflates the "followers" count in the followers and subscriptions widgets beyond actual WordPress.com/email followers.
What does WordPress.com stats count as visitors and views?
Five views today means I viewed five pages on your site between my two visits there today. But I will only count as one unique visitor based on tracking cookies. (Read more about how WordPress.com tracks stats.) Other methods of tracking visitor statistics include "visits": two visits would mean I came to your page two separate times today.
Why am I getting random WordPress "Likes"?
WordPress "Likes" may be spam. If you notice strange trends, you can change your settings so Likes are only on per post. Read more from WordPress.com about Likes.
Got more questions? I'll be glad to answer them! Comment and tell me what you're still curious about.