At the beginning of 2020, I set my Goodreads Reading Challenge goal for 75 books. I didn't want to set the bar too high and get discouraged. But I spent much of January with a nasty cold, and made great progress toward my reading goal the first month of the year. The month of April brought a flu bug, and I realized that I might need to up my goal. (But really, wasn't everyone changing their reading goals in 2020?!)
All told, I read 145 books in 2020. Many of those were shorter Kindle reads, making my average book length 205 pages. (29,817 pages read feels like an accomplishment, though.)
I do most of my reading in the evening, after a long day of work, or on the weekend, to relax. Since reading is also one of my favorite forms of stress relief, most of my 2020 reads were lighter fiction fare–because, 2020.
Favorite Authors
Roseanna M. White's Codebreakers series was an exceptional read from 2020, as was Follow the Dawn by Rachelle Rea Cobb. I was delighted to read Katherine Reay's latest, Of Literature and Lattes. Rachel Scott McDaniel's The Red Canary was stunning. Rachel McMillan's London Restoration was beautiful (I also adored her Love in Three Quarter Time series!). I loved Jennifer Lamont Leo's Moondrop Miracle and was glad to read the conclusion of Jan Cline's American Dreams series. And when I completed Carla Laureano's The Saturday Night Supper Club, I enjoyed her MacDonald Family Trilogy, as well.
Two of Chautona Havig's titles I particularly enjoyed were Oh, Gracious as well as the latest in her Marriages of Conviction series, Tempting Tait. Elizabeth Maddrey's binge-worthy series kept me company through cold and flu bugs: Peacock Hill Romance, Taste of Romance, Operation Romance, Hope Ranch, and Remnants (I read a total of 21 of Elizabeth's books in 2020!). And of course, I read every new release from Valerie Comer as soon as it was available (I love her Urban Farm Fresh Romance series!).
Notable Novellas
I discovered Perry Elisabeth Kirkpatrick and binged on her Accidental Cases of Emily Abbot as well as The Kitten Files (which my daughter also particularly enjoyed). I found Ruth Buchanan and her Cooper sisters books helped me through the flu. Though I haven't read much by Christy Barrit, The Sidekick's Survival Guide delighted me and I read every single one the moment it came out.
New Finds
New to me authors that I enjoyed this year included Joanna Davidson Politano (every book I've read was lovely!), Toni Shiloh (Faith & Fortune, Freedom Lake), Melissa Tagg (Maple Valley and Walker Family), Heather Day Gilbert (Barks and Beans Cafe), and Barbara Cornthwaite (loved the Wilkester Mysteries!). I think I'd read only one book by Pepper Basham before, but I read Jane By the Book in early 2020 and proceeded to read almost all the rest of her titles throughout the year (loved A Match for Emma!). Then I found Kara Isaac and read every single one of her delightful titles, as well. Rachel Hauck's The Fifth Avenue Story Society was incredible and more of her titles are now on my TBR list.
Debut Authors
I read three of the most brilliant debut titles in 2020. Barbara Braendlein's Olive, Amy Lynn Green's Things We Didn't Say, and Ashley Clark's The Dress Shop on King Street are all must-reads, in my opinion.
Mystery
My husband and I are both longtime fans of Holmes, Poirot, and Miss Marple, as well as the Nick and Nora movies. When it comes to British literature, our favorite is P.G. Wodehouse. Though I read a lot of Christian fiction, these are not. With those disclaimers… A friend recommended the Lady Hardcastle series–I found it positively delightful! I read the whole series, and my husband listened to them all on Audible and Scribd. I also discovered the Amory Ames series, and made my way through five of them so far. My husband and I both enjoyed several titles by Anthony Horowitz, as well, though they won't be to everyone's tastes. I re-read The Unexpected Mrs. Pollifax, then listened to the audiobook with my husband. I plan to read the rest of the series in 2021! I also listened in on parts of Murder for Christmas by Francis Duncan and An Accidental Death by D.C. Smith (but I don't count an audiobook as "read" unless I hear it without falling asleep halfway through the night's chapter!) Also on my mysteries TBR is the Herringford and Watts series.
Non-Fiction
Lest you think all I read was fiction (that would be nearly true!), I'm making my way through Becoming Elisabeth Elliot, Mary Me, I Choose Brave, Stop Calling Me Beautiful, Mama Bear Apologetics, My Divine Comedy, and Adorning the Dark.
Goodreads & Reading Logs
I'm a huge fan of Goodreads, especially since I read so much on Kindle–which is automatically tracked in Goodreads. Read more about how my friends and I use Goodreads:
If you're looking for a more creative reading log this year: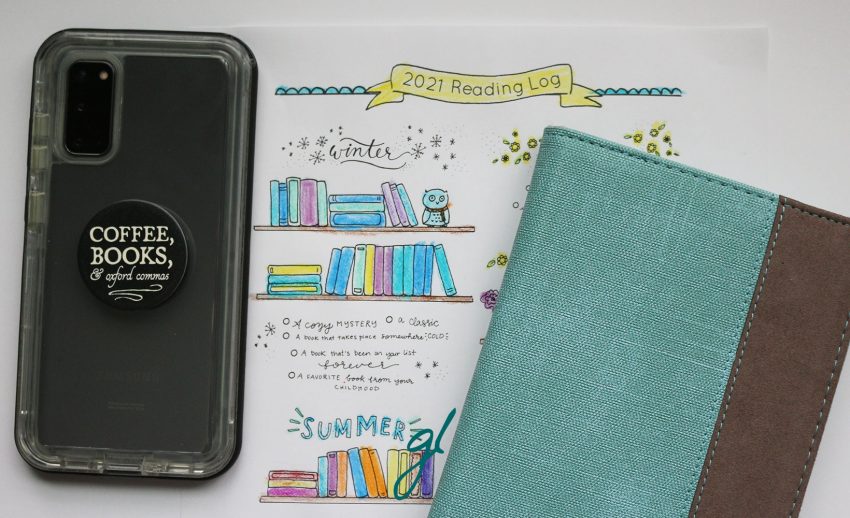 P.S. My PopSockets was designed by my friend Abigail of ASourceOfJoy Graphic Design.