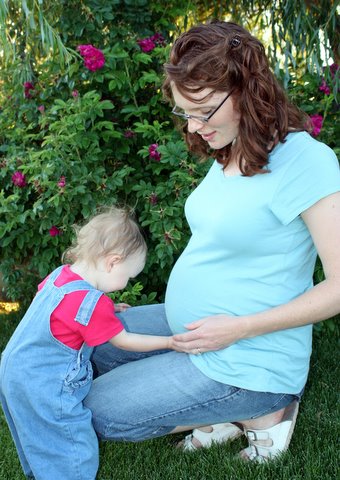 I was seven months pregnant with our first child when Fairlight posed a question: "I've always wanted to ask, do pregnant women feel as cute as they look?"
I laughed.
I was beyond exhausted, more than glowing from the humidity I was unused to, and not feeling in the least bit cute.
"No," I had to answer Fairlight honestly. Sometimes, if you caught me at just the right moment, with just the perfect cute maternity top on, I explained, I might feel cute. But more often than not, I was tired, hot, and feeling as though my clothes did not fit right (but when it's the third outfit of the morning, if it at least goes on, one finally has to give up).
I'm seven months pregnant with our second little one now. In between pregnancies I spent all my time looking at those cute pregnant ladies and feeling those maternal longings to have a little one growing there beneath my heart again. Nowadays I again look at those pregnant ladies and feel an instant bond—the waddle, the exhausted but glowing look we all share.
But when my sister-in-law Megan asked, "Do you still like being pregnant?" my answer was a resounding yes. As precious as it is to hold a nursing babe in your arms, there's nothing quite like the constant tapping of baby feet inside your belly. Ruth Ann wasn't very many months old before I was already missing having my baby always with me, right there inside me. My answer to Megan was easy: I love being pregnant. Even if I don't often feel like a cute pregnant lady.
The problem is, I don't think being pregnant is any excuse for being more frumpy than usual. Even if comfy is a valid necessity. It seems to me a husband will soon be less inclined to want more children if he considers the fact that he will once again have to look at a fat, frumpy wife for nine months or more! There may not be much I can do about the fat part (though I can do my best to keep the fat in all the right "pregnant" places!), but I can work on dressing as cute as possible just for him (and the other people like Fairlight and my non-pregnant self who think pregnant ladies look cuter than they feel!). Not to mention getting as much rest as I can so I don't always look as exhausted as I feel!
This second time around, my maternity wardrobe has continued to slowly expand (no pun intended!). There seems to be slightly more selection out there this time around. But even Wal-mart seems to have bought into the notion that fewer women are having babies these days and thus only about half a rack of maternity clothes is necessary. Not that I've bought maternity clothes at Wal-mart. But I've been close to that desperate. J.C. Penney has seemed to have the nicest selection, quality, and the best sales on new maternity clothes. But I did just finally find a few shirts at Motherhood Maternity with a style and price I liked (and why did it take me so long to discover their "tummy sleeve"?—it keeps my pants up and makes sure everything "meets in the middle"!).
Truth be told, as usual, GoodWill has been my favorite maternity store of choice. It's just taken an awfully long time to gather maternity clothes that fit me—and that I like to wear! There seemed to be a trend there for a while of making maternity shirts as short as regular shirts, just wider. Now they are longer, but just as tight as every other teen girl's shirt—showing off every extra curve that pregnancy gives one! But it's finally dawned on me that it would be the rare store I could walk into, even with unlimited resources, and find an entire regular wardrobe in one day. So how did I expect to collect a "specialty" wardrobe of maternity clothes so quickly? It's only taken 18 months (and those few shirts I bought in between pregnancies—shh, don't tell!) to collect the repertoire I have now. Especially since, not being very pregnant in the summertime with Ruth, I've discovered this time around that some of those maternity shirts I found at GoodWill that first summer were not long enough to cover a seven month baby belly!
So take heart, first-time expectant moms. You will spend most of the next nine months trying on at least three outfits each day and complaining that nothing fits like it did last week. You most likely won't feel like you have any selection in your maternity wardrobe until you've shopped through at least the second or third pregnancy. But being a happily expectant mom—who everyone else thinks is so cute—more than makes up for the lack of outfits to choose from. And never forget that it doesn't matter what we look like to the rest of the world—our husband's eyes, our husband's taste in maternity clothes is all that matters. After all, I am his beauty—the woman he chose to be the mother of his children. And I never want to make him regret that for a single moment.
Oh, and that part about being barefoot and pregnant? Not recommended. All that extra tummy weighs heavy on the feet. It's a much happier thing to be pregnant with Birkenstocks on your feet!