If we could see beyond today as God can see…
I could hear the tune in my head the moment I thought about the word "beyond." I pulled out the old brown hymnal to find it. I don't remember if we sang it in our church growing up. But it only had one sharp, so it was something I could play. And anything I could play on the theme of trust, I did.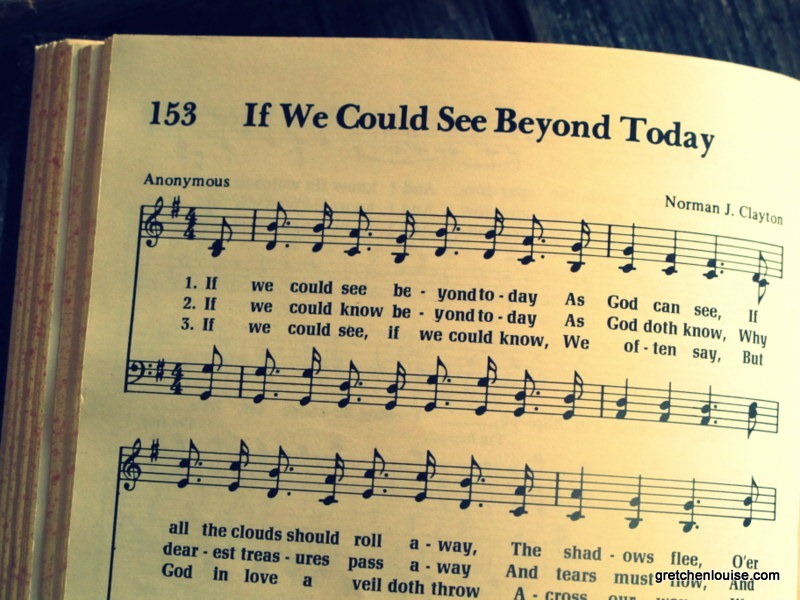 If we could see beyond today as God can see,
If all the clouds should roll away, the shadows flee,
O'er present griefs we would not fret,
Each sorrow we would soon forget,
For many joys are waiting yet
For you and me.
When school days seemed long and household chores interminable and all I wanted to know was whether I'd marry that brown-eyed boy, I'd sit at the piano and pound out some hymns. I'm sure the musical performance was nothing to write home about. But the words of those old hymns ministered to my heart.
If we could know beyond today as God doth know
Why dearest treasures pass away and tears must flow
And why the darkness leads to light
Why dreary paths will soon grow bright
Some day life's wrongs will be made right
Faith tells us so.
Now I'm married to that brown-eyed boy. Our little ones are approaching school age and the household is my own. When I look beyond today, the days are long and the years are short. But when I can't even see the hill of help for the mole hill of dishes, I'm forced beyond myself to cling to His strength.
If we could see, if we could know, we often say
But God in love a veil doth throw across our way.
We cannot see what lies before
And so we cling to him the more
He leads us 'til this life is o'er
Trust and obey, yes trust and obey.
(Hymn lyrics from "The New Church Hymnal" by Lexicon Music, Inc. 1976. Lyrics have been attributed to "Anonymous" as well as Jerome McCauley.)