The FlyLady says to get dressed to your lace-up shoes when you start your day.
Others like to step into their pumps to stop the frumps.
Me?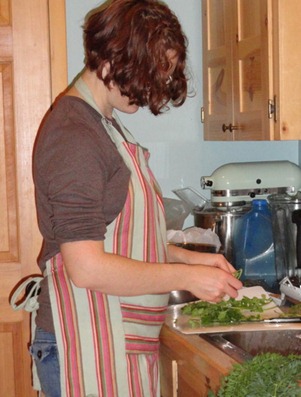 I'd be a barefoot-in-the-kitchen kind of girl—except for our concrete floor.
I'd be a wear-my-comfy-foot-shaped-Keens-for-housework-each-day kind of girl—except that I like to be able to easily slip into an outside pair of shoes to run to the herb garden or the freezer or the shed.
I'd be a wear-my-Romeo-shoes-around-the-house-so-I-can-easily-slip-in-and-out-of-them kind of girl—except that my heels blister way too easily.
So I'm a Birkenstock kind of girl.
And I get dressed to my apron when I am ready to tackle my housework.
How about you? What's your dressed-and-ready-to-face-the-day attire? What's the costume that keeps you awake and on task?