Fiction for the Long Winter Evenings
(This post contains affiliate links. Read my full disclosure.)
It's that time of year when it gets dark before dinner and I just want to curl up with a good book the moment the dishes are done and the kids are in bed. At this stage of motherhood, I'm running low on sleep and short on time, so my favorite reads aren't thick tomes that require too many brain cells to interpret. Instead, I'm loving a lot of light reads that are fun and encouraging while also wholesome and inspiring.
It's no surprise, then, that Chautona Havig is becoming my constant go-to when I need a new fiction title. This prolific author keeps the bookworm in me supplied with good reading, while at the same time encouraging me as a mom and a Christian. Reading Chautona's books makes me feel like I've had a great conversation with a friend. And truly, her characters do become the best kind of friends—the ones whose example touches your life in a way that's impossible to forget.
Chautona cuts to the chase. She's not afraid to deal with difficult issues. But when it comes to love, Chautona redefines pure Christian romance novels. Whether it's a traditional romance or two teens dealing with a pregnancy, the details are always chaste. And through the ins and outs of dating relationships as well as the ups and downs of married life, the perspective is one that will always leave you challenged.
One of the most delightful things about Chautona's books is the way the majority of them center around characters living in the fictional town of Rockland. This means that many of the characters weave in and out of each other's lives, giving you not only the delightful small town kind of familiarity, but allowing you to revisit old friends from time to time. It also makes so many of her tales overlap in a way that makes it impossible to put them in numerical order, but Chautona has several suggested reading orders on her site if you're the type that can't start in the middle.
Chautona is an incredibly generous author. She frequently writes in serial form (just like the stories published in magaziens of old), releasing her books in short sections—and often for free! You can follow her blog via email or keep up with Chautona on social media for notifications of all the sales and freebies (all but her latest release are available for 99 cents on Kindle this weekend!). Plus, you'll get a glimpse into how much this woman loves words, story, and the One Who is the Word.
Chautona is a very gifted author; her books are always well written. The only thing I don't like about Chautona's books is that they often include typos. But it's worth the jarring placement of punctuation to be regaled by Chautona's tales!
Here are some of my favorite books by Chautona Havig, along with some additional reads I'm enjoying on these long winter evenings…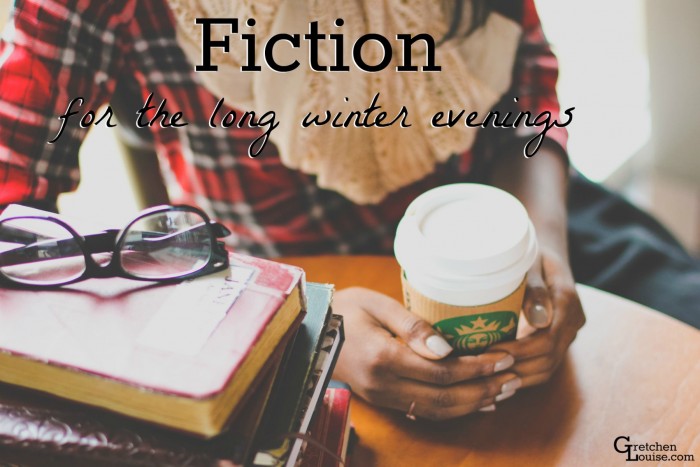 (photo by Farmgirl in Flipflops)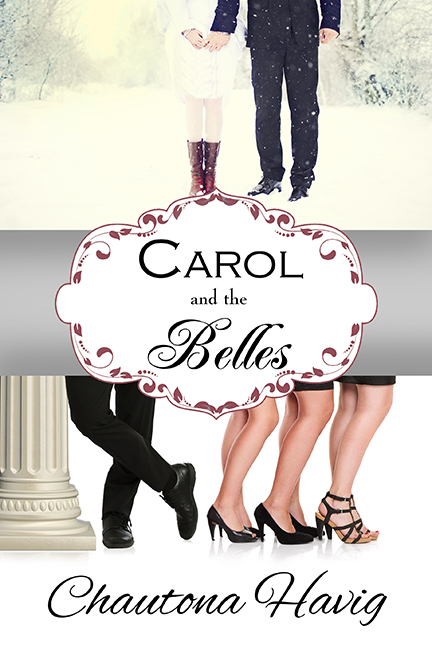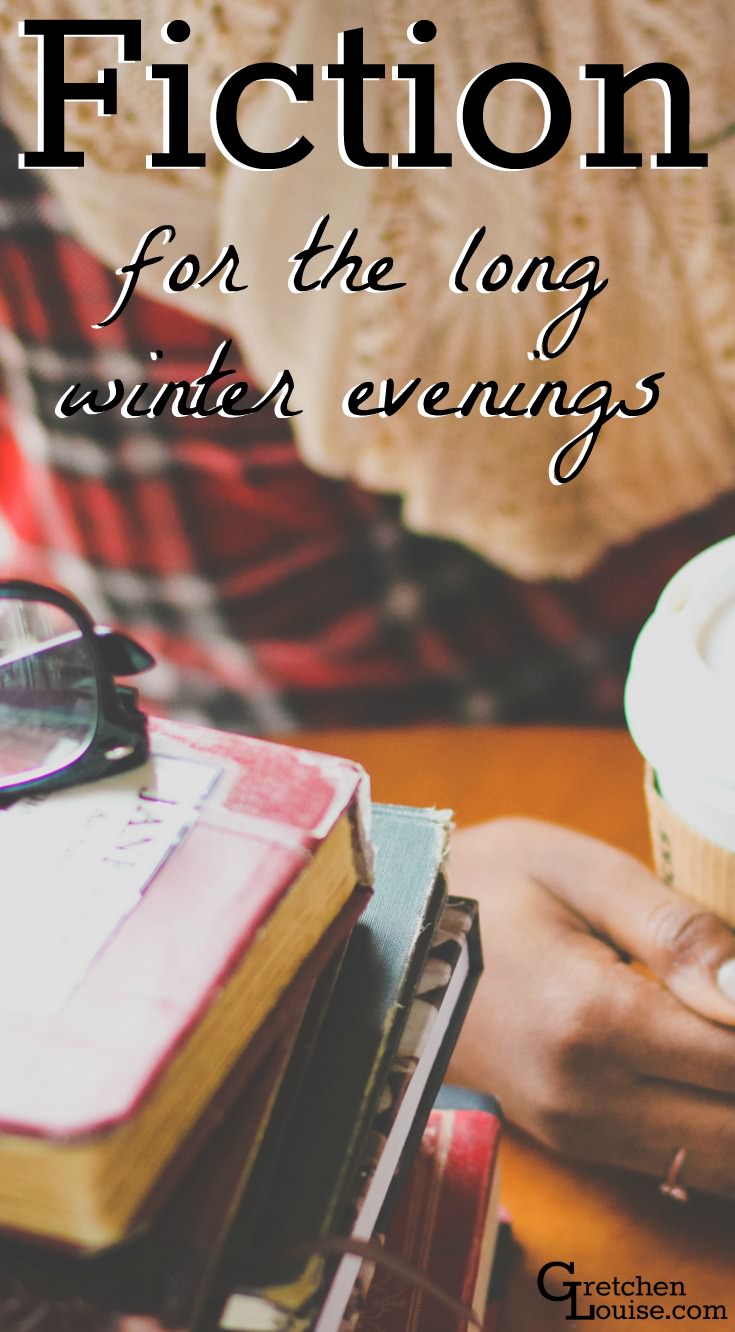 I spent my pre-teen and teen years writing voluminous letters to numerous pen pals. (I do not exaggerate. Some of them actually called my letters "books".) So I just can't resist a book about letters. Especially when it includes international pen pals who finally get to meet! If you're already a fan of Chautona Havig, you'll love this tale that parallels part of Hearthland. But if you're not, Carol and the Belles will be a great introduction. Treat yourself to an early Christmas present and settle in for a tale full of twists and turns!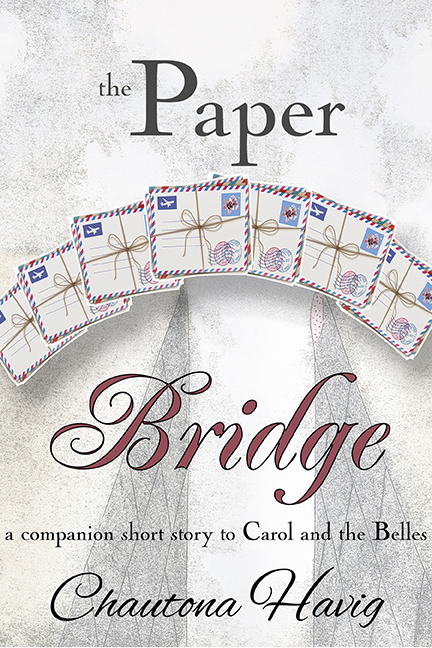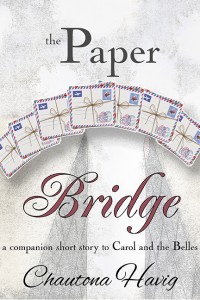 Purchase Carol and the Belles between November 26-30,
and receive a free copy of the exclusive launch bonus The Paper Bridge.
Click here for details.
I like a lot of historical fiction, but I'm always unsure when trying a new author (even if it's a person whom I already know and love). But Rachelle Rea drew me right into the 1500s during the Iconoclast Fury with The Sound of Diamonds. I enjoyed getting to know the characters more in the sequel, The Sound of Silver. And I look forward to The Sound of Emeralds for more stories of love and honor set in centuries past.
The first (perpetual Kindle freebie!) book in the Farm Fresh Romance series got me hooked. So I bought Plum Upside Down the moment it came out this summer. I was not disappointed. In fact, there were many facets of Plum Upside Down that made it my favorite of the series. Delving into God's love and the facets of our relationship with Him, Plum Upside Down had me re-reading passages through tears. You could definitely pick this title up on its own, but I think you'll love the whole series! Centered around a small eco-friendly community in northern Idaho, these books are full of biblical truth woven throughout delightful pure romances (peppered with lots of kisses! In fact, subscribe to Valerie's newsletter for a free novella, Peppermint Kisses).
I bought Not a Word because it was the first book in the Rockland Chronicles. I shouldn't have been surprised when a book by Chautona Havig challenged me so deeply, but I was. Teen pregnancy, gossip, lies, and the unnerving humility of someone who is willing to be silent in the face of his accusers. The themes hit hard, but they are meant to.
(Due to the themes of this book, parents of younger readers may want to preview the book.)
The Aggie trilogy was one of my earliest introductions to Chautona Havig, and will always remain one of my favorites. What happens when you "inherit" eight children? Well, a whole lot of noise, for one thing. You will laugh and you will cry—right along with Aggie!—throughout this heartwarming and unforgettable tale. You'll also get to listen in along with Aggie to some of the best parenting advice I've ever heard–or read.
If living off the land is appealing to you, then Past Forward is a not-to-miss book for you. But whether you're earthy or you don't buy a single thing in the organic section, I think you'll still love Willow's story. Mystery, intrigue, romance—it has it all. Living without electricity and making the majority of their goods, Willow and her mother live the perfect self-sustaining lifestyle–until Willow has to walk into town to ask how to properly report her mother's death. You'll laugh a lot, even as you're forced to meet the rest of the world through Willow's eyes. And prepare to be inspired by Willow's constant question: "What would you do with all the time you saved?"
Hearthland is a community that takes Willow's lifestyle and makes it available to an entire group of investors. Rich with all sorts of personalities, you'll come to love the people in Hearthland. But even more than that, you'll be challenged (as I was!) by what they teach you. In Hearthland I came to know people I would have been too readily judged. But hearing their stories let me see life through their eyes, and look on them with more compassion. (Oh, but I should warn you. Hearthland is a serial novel that is not yet finished. I'm waiting—rather impatiently—for the next installment.)
Much like the sisters of Austen fame, these two sisters have plenty of their own personal drama. This story will pull you right into their lives as you learn powerful lessons along with them about family and friendship–and food.
(Oh yes, if you like food, you'll like this book! Click here for my full review.)
Antiques. Books. Craftsman style furniture. One of a kind personalities. This book is rife with vintage items and unique characters that make for an intriguing plot. If you're like me, you might find you face yourself in many aspects of Reay's characters. Her books leave me pondering, and anxious to re-read them. Read my full review here.
(And if you want an idea of how much this book references other books, Sandra People compiled a list of all the book titles mentioned in The Brontë Plot!)
More titles I'm loving right now:
In the mood for music?
What books are you looking forward to reading this winter?
Disclosure: In exchange for an honest review, I received free copies of Carol of the Belles, The Sound of Silver, Lizzy and Jane, and The Brontë Plot.