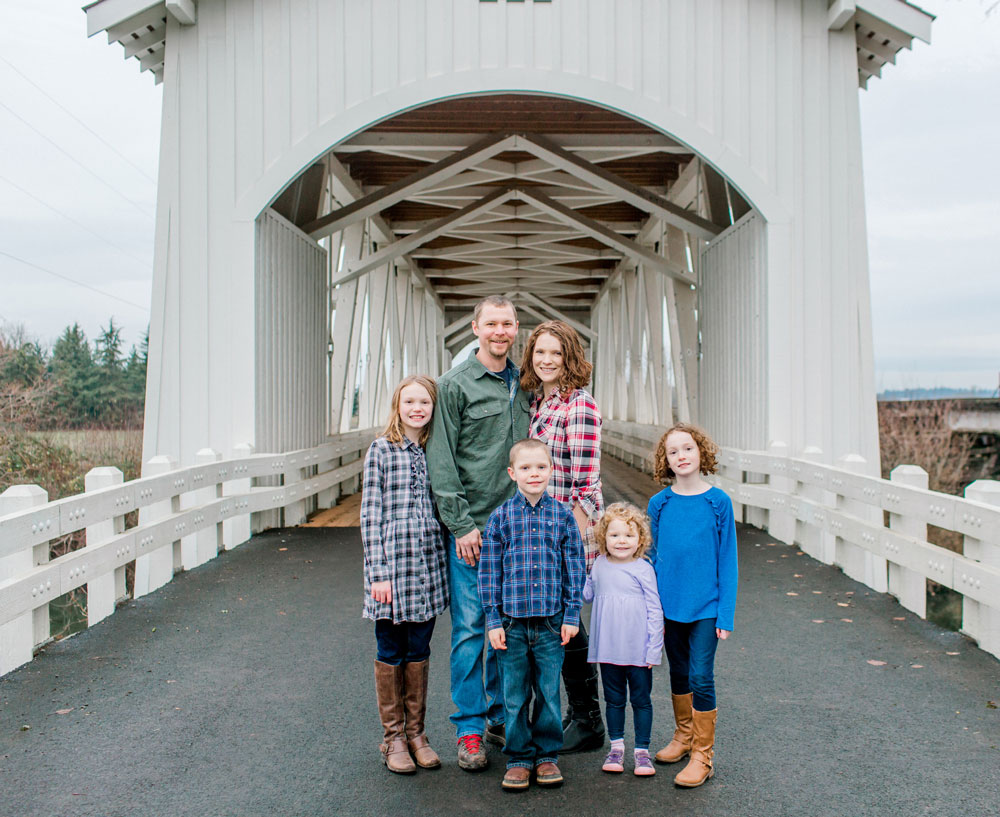 Dear family and friends,
"Momma, when I grow up, will you ask Daddy to help me build a house?" Our Sara Bear loves to talk about plans for her future house. "Which color do you think my house should be? Pink and black?"
You're never quite sure when the subject is going to come up. The other day, it was a public restroom: "I gonna save my money for some of this tile. 'Cause I need it for my bathroom!" The surest way to get Sara talking is to ask about her latest house plans. "So the kitchen is going to be painted black and the bedrooms are going to be painted pink and the outside is going to be painted yellow. So that's my house, Momma. Does that sound nice colors?"
We've been working on the addition to our home ever since Sara can remember, so it's no wonder it fills her plans and dreams. Her observations on the process never cease to delight us. Meanwhile, her older siblings browse their daddy's copies of This Old House and American Bungalow, developing their own architectural tastes that show in their Lego creations and the pictures they draw.
Flooring was installed on the lower level of our new addition on January 3. We immediately moved into the living room and office—turning the old living room area into a big playroom/schoolroom we call "the library", leaving our old kitchen to become a laundry room in the next phase of our remodel. I got to start off the year in my new office, a lovely spot right off our dining room where I have a standing desk—surrounded by windows! Though we hung our kitchen cabinets in late November 2017, we had to wait to use them—first for flooring, then for countertops. It felt surreal to finally move into our new kitchen on March 2!
In April, a mason laid the brick hearth in our new living room (with an audience of four little people who counted bricks and watched the process in fascination). Throughout the summer and fall, Merritt gradually checked items off the list (somehow fitting them into his 16-hour work days!). Gables and vents, siding, window trim, stair rail, and so much more. We're so close to finishing this phase of our addition!
Something new for our family this year was joining a local Classical Conversations community. Homeschooling has always been a way of life for us. CC offered us an opportunity for accountability and fellowship one day a week—with someone else directing the dissection of animals and the diagramming of sentences! We're very thankful that we've been able to add a bit more of the formal classical style of learning into our homeschool while retaining the literature-rich approach we cherish. Sara wasn't old enough for CC yet this year but that hasn't kept her from brainstorming her own presentation topics each week and memorizing prepositions along with her siblings.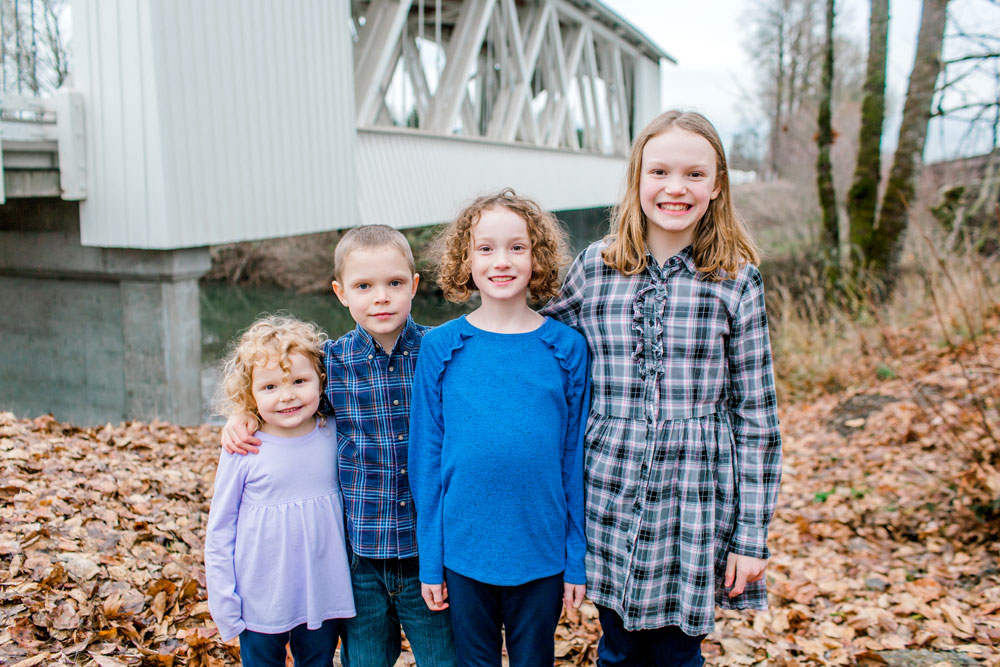 (This page contains affiliate links. Read my full disclosure.)
Ruth Ann is officially in the "tween" years; reaching 11 in November. She is imaginative, expressive, and prone to be distracted by books. We're fairly sure that if she had her way, she would read all day long. When asked for two favorite books she read this year, she chose her most recent reads: The Little Colonel series by Annie Fellows Johnston and Fiery Trials from The Tales of Larkin series by Alan W. Harris. Ruth is in charge of the laundry at our house which is a huge help to Mommy! She loves to bake; muffins, cookies, and biscuits are her specialty. Writing is Ruth's best-loved subject—writing letters, posts for Mommy's blog, school papers, and CC presentations. We love watching her writing skills blossom with the Institute for Excellence in Writing curriculum used in Classical Conversations. One of the highlights of the year for Ruth was seeing The Nutcracker with her family.
Mary Kate celebrated her ninth birthday in August. She lives life with zest, has a contagious giggle, and dresses with her own delightful flair, lately with an umbrella or parasol on her arm. She is very thankful for the friends she has made at CC. Mary memorized The Gettysburg Address and presented it to her CC class (wearing a borrowed top hat!) 155 years to the day after Lincoln delivered it. Mary is a cheerful helper and has become the family's clean up person. (It frustrates her to no end how quickly messes are made again.) She likes to draw and loves being able to read—whether it's a book or someone's text message! Mary's preferred things to listen to are the Redwall audiobooks by Brian Jacques and David Kern's podcast "The Daily Poem" from The Close Reads Podcast Network. Mary loved riding bicycles with second cousins when they came to visit our farm.
Daniel turned 7 in April. He is mathematically minded, creative, and has his daddy's mechanical inclinations. He spends hours building Legos, drawing, and listening to audiobooks. He also enjoys playing with trains and stuffed animals with his sisters. He loves our cats, chickens, and goose, and delights in snuggling the tamer of them. Asked what his favorite part of the year was, he answered "CC." When he's not at the farm helping Papa and Nanna or Daddy in the garden, he's digging in the dirt at our house and seeing what he can grow—or riding his bike (which earned him some stitches in his knee this year). His newest hobbies are knitting, crocheting, and sewing. Daniel's audiobooks of choice are The Green Ember series by S.D. Smith and The Tales of Larkin series by Alan W. Harris.
"Sara Bear" celebrated her third birthday April. She's the best little helper (she loves to vacuum and to unload the silverware from our new dishwasher) and surprises us with her neatness (she closes cupboard doors before we're done putting things in them!). Sara likes nothing better than to pull up a chair to help whomever is cooking or baking; she thinks she's the "best cooker". She's our "little girl with a curl right in the middle of her forehead." When she sleeps, she twirls her hair through her fingers, which means her Longfellow curl is always in near perfect form. Right now, she loves it when Daddy and Mommy read aloud How the Grinch Stole Christmas! and Harold and The Purple Crayon, over and over again. Sara likes to listen to Anne of "Dreen Dables" (as she pronounces the classic by L.M. Montgomery), "The Wardrobe" (her shortened version of the first of C.S. Lewis' Narnia series), and "Uncle Bob's Nature Corner" from Moody Radio. The Nutcracker has become her most-requested music (as she said when we saw it live, "The music is just too danceable!"). Sara would like to be sure I tell you that she loves pink—"all the kinds of pink!" She is also delighted that we had room to get a Christmas tree this year.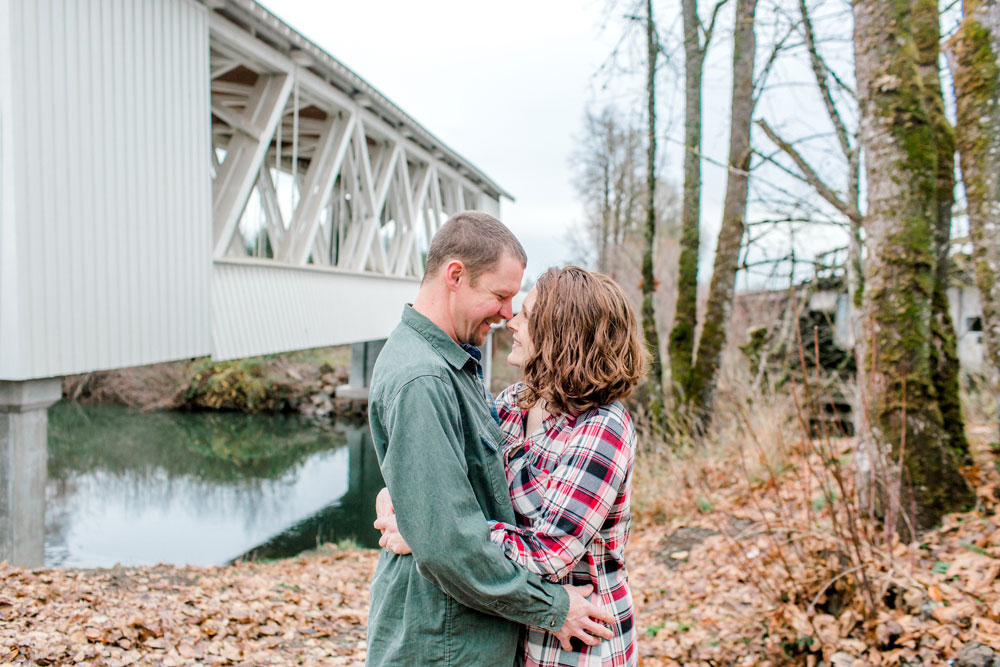 It was such a treat to begin the year in my new office! It's made farm bookkeeping on Saturdays with Merritt easier because we have room to spread out. On weekdays, I work from home helping authors and bloggers with their WordPress websites. There's always something new to learn but I love the challenge. My clients are a delight to work with—and it's a real joy when they become my friends, too. I continue to manage the Kindred Grace blog, as well. In August, I was privileged to join some of my fellow Club31Women writers for a retreat. It was a precious time of fellowship and renewal. I'm enjoying my new kitchen with a big window. And I love summer Fridays because they mean I get to spend all day with my favorite person: Merritt and I sell at farmers market together! My most cherished time of day is when it's finally quiet and Merritt and I can curl up with our own books or listen to an audiobook together. Two reads this year have been Emma and the Reasons by Natasha Metzler and The Word Is Murder by Anthony Horowitz. We're currently savoring the audiobook of The Guernsey Literary and Potato Peel Society.
Merritt continues to shoulder the field work on the family farm. He had one field to replant this year and got four cuttings of alfalfa off some of the fields. We're grateful for the big reel guns that lessen some of his time spent in the field changing irrigation water. But we also loved climbing onto the John Deere Gator after dinner sometimes this summer to accompany him moving sprinkler pipes and wheel lines as the sun set over our farm. In addition to field and garden work, Merritt sold at two farmers markets a week May through October. In the summer, audiobooks and podcasts kept him company during his long hours on the tractor. Now that the farming season is slowing down for a few months and his remodel to-do list isn't quite so long, Merritt is relishing remembering what it is like to sit down and read a book before bed. He is re-reading some classics from C.S Lewis and Gene Stratton-Porter. No matter his schedule, Merritt is good about finding time to read aloud to the children a bit each day. He is currently reading Ralph Moody's Little Britches series aloud to them.
Looking back on 2018, we cherish the times we've had with family. Watching our children build forts with their second cousins on a visit to my grandparents' ranch (just like I used to do with my cousins). Picking blueberries with my siblings and their spouses. Swimming with my cousins in the pool my grandpa built, just like old days. The girls playing dolls with Nanna. A railroad museum with some of Merritt's family. The big kids learning how to shoot a .22 from their daddy and mine. Daniel learning to knit and crochet from Nanna. The kids playing Legos with their daddy and his brother. An early Christmas with my family. A snowy Christmas Eve with Merritt's family. All the little moments that make up the memories we are so thankful for.
Wishing you and yours joy and peace in the new year…
Gretchen for our family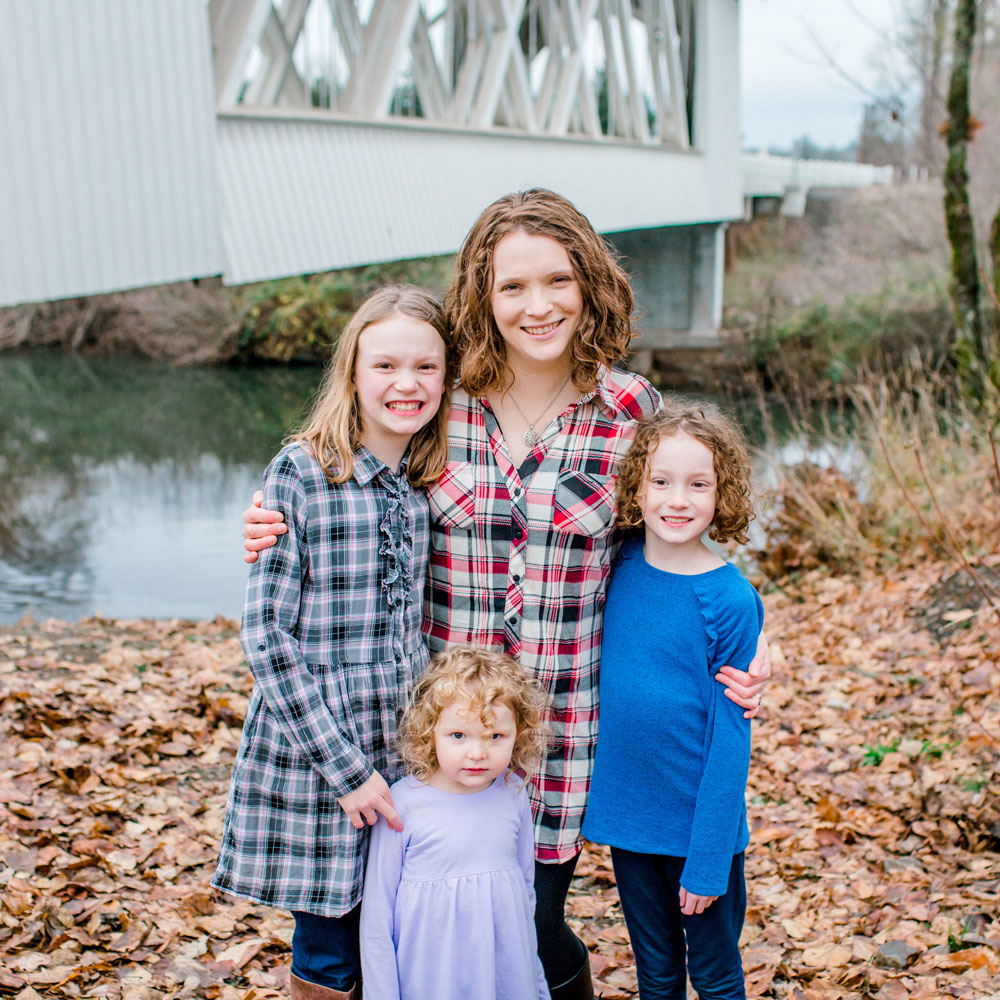 Photography by Rebekah Leona Photography