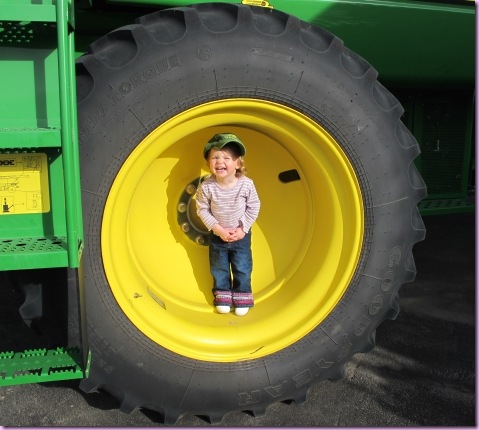 Here on the farm, we don't just wear green on March 17: we wear John Deere green.
In fact, we celebrated a day early by stopping at a John Deere dealership on the way home from my parents' yesterday. And as extra protection against getting pulled over, we carried the base of a John Deere push mower on top of our car for the entire trip. (My farmer explained to me that no policeman would want to look so silly as to pull a car over for speeding that was carrying a lawn mower on top. Not that we sped on purpose, but it didn't seem to slow us down any, either.)
Today, Mary tried green beans for the first time. Let's just say she didn't think green was all it's cracked up to be.
It's good to be back home on the farm. The sky is blue, the fields are turning green: March 17 shows sure signs of spring this year!
Are you wearing green today?
John Deere Days gone by: