Has it really been a year for us?
Sitting here looking out the window on this rainy June morning in Washington, it is hard to believe that it was more than a year ago now, on another rainy morning in another state, that I became his wife. And what a year it has been!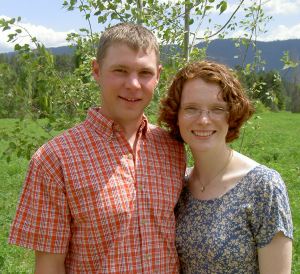 Finishing our little home, riding in the tractor together while he baled hay, finding a church family, an explosion and a broken leg, spending lots of time at work together, crutches and a cane, finally being able to hold hands again when we went shopping, trying to surprise each other for our birthdays, elk hunting in the rain and snow with my dad, much to be thankful for on Thanksgiving, visits to Oregon, coming back home to our home, our first Christmas together, more trips together, celebrating Valentine's Day as husband and wife, watching my husband's carpentry skills up-close with more building projects, then planting and weeding in the garden together, watching as my farmer prepared the fields, celebrating our very first anniversary with family and friends on Memorial Day weekend, and trying to figure out how we can see enough of each other this summer without breaking another leg.
Yes, it's been quite the year. But God has been so good to us.
We little knew, as we stood there in front of the church, holding hands, singing "Great is Thy Faithfulness" with everyone else, how well we would learn the truths of that song in our first months of marriage. We thought He had proved His faithfulness over and over again throughout our 10-year friendship. But we learned He is never through showing us His faithfulness. "A peace that endureth" through surgeries and hospital waiting rooms. "All I have needed Thy hand hath provided" as He took care of all the hospital bills and extra expenses through our friends and other believers in Samaritan Ministries.
"Strength for today" to care for my husband and all the household chores. "Morning by morning new mercies I see" as we unwrapped the bandages each day and saw the miracle of how God created our bodies to heal. "Bright hope for tomorrow" as we found out that the Lord is sending us a little one in December to train up in the way it should go–yes, "blessings all mine, with ten thousand beside."
We "join with all nature in manifold witness, to His great faithfulness, mercy and love"…