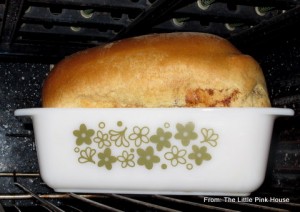 My recipe book falls open to page 402 every time, the page with our new favorite recipe: potato bread. Homemade bread made with homegrown potatoes—you can't get much better than that! And we love to make at least one of the loaves each batch into a cinnamon swirl loaf my daughter calls "Cinn' Bread." The loaves rise beautifully—clear up to the top of my lil' oven!
The dough can be sticky and a bit hard to work with until it's risen once. But don't let that scare you—it's a fairly easy recipe, and one you'll want to keep trying. It's forgiving, too—if you don't cook it long enough, the slices still slice up nicely. If you put too much flour in it, it's tough but makes great French Toast. (Don't ask me how I know these things…)
Enjoy!
Potato Bread
adapted from Bernard Clayton's New Complete Book of Breads, 1995 edition
(makes two loaves)
Combine:
1 c. warm mashed potatoes
1 3/4 c. warm potato water*
1 T. salt
2 T. sugar
1/4 c. butter
Add to:
1 c. wheat flour (optional—replace with white if you wish)
2 c. white flour
4 1/2 t. yeast
Mix well. Add approximately 2 c. additional white flour, until the dough pulls away from the side of the mixing bowl, forming an elastic ball around the center of the mixer. Knead by hand or mixer for 10 minutes, adding additional flour only as needed (it's easy to get too much flour in this recipe).
The dough will be stickier than regular bread dough. Sprinkle with flour if necessary for handling. Place in a greased bowl, cover loosely, and let rise until approximately double in bulk. (Bread dough is risen when a finger indentation stays—if you press your finger into it and it rises right back up, it's not done rising yet.)
Punch down and divide into two balls of dough. Form into loaves or twists, place in well-greased pans, and rise again. Bake at 350 for 35 to 45 minutes, until the loaves are well browned. Check to be sure they're done by removing them from the pan and tapping the bottom of the loaf—it should make a hard, hollow sound.
For cinnamon swirl bread: Roll out ball of dough into a long rectangle. The longer the rectangle, the more swirls there will be in the loaf. Spread with butter, powder with a bit of sugar, and sprinkle liberally with cinnamon. Roll up the rectangle of dough, pinching and bringing the ends under to form a loaf.
*Cook a few small potatoes in 2 cups water, until potatoes are soft. Drain and reserve liquid, adding more water if necessary for 1 3/4 c. potato water. Mash and use 1 c. of the potatoes.