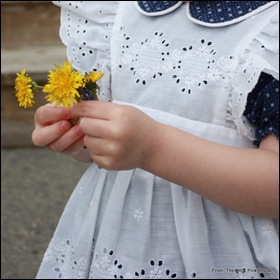 Dear Ruth Ann,
It was Sunday after church. We stopped at the gas station. You just had to go use the little girl's room, despite the fact that we'd be home soon.
We stumbled back out through the doors of the gas station—tired girls, you and me, ready for our Sunday afternoon nap.
Our carriage awaited us. Our own personal chauffeur—your daddy. And someone in the back seat to keep you company—your baby sister.
But was that where you were looking? No. You were staring at the little boy who was walking in to the gas station as we were walking out.
And in the process, you nearly stumbled off the sidewalk.
"Don't look at little boys! Watch where you're walking," I admonished while holding you up.
"Just one, Mommy."
I laughed. You'd caught my improper plural usage of "boys" when there'd been only one boy.
"Just one boy, Mommy," you reiterated.
And suddenly, you were two and a half going on sixteen.
I heard you, all grown up, excited, blushing, telling me about the one boy you liked.
(I wrote my mom a letter about your daddy…)
I imagined you pleading with your daddy to put away the shotgun when that one boy came calling.
(Your grandpa always warned that the right one better wait until he'd run out of shells…)
I was seeing you walk down the aisle on the arm of your daddy, towards the one man you'd loved forever.
(Just like your mommy did…)
Yes, just one boy, Ruth Ann. Just one boy…
With love and prayers,
for you and that one boy God has for you,
your mommy
One boy, one girl, two hearts beating wildly
To put it mildly it was love at first sight
He smiled, she smiled, and they knew right away
This was the day they'd waited for all their lives
And for a moment the whole world revolved
Around one boy and one girl