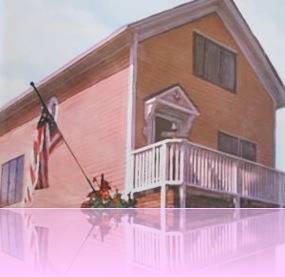 Susette Kelo and I have two things in common: red hair and little pink houses.
"Doesn't the house look great?" Susette asked.

The seller looked disgusted. "Pink?" she asked, then insisted it was not right for the period of the house.

"That's not true," Susette said. "I got the color right off the historic paint chart at Benjamin Moore."

The seller was not impressed.

"Besides," Susette said, "the color is Odessa Rose, not pink."

"Well, it will certainly brighten up the neighborhood," the seller said sarcastically.

Susette grinned. "And…so…won't…I," she said.

-Little Pink House by Jeff Benedict, pg. 26
Little Pink House: A True Story of Defiance and Courage, by investigative journalist Jeff Benedict, chronicles "one woman's historic battle against eminent domain." That woman is Susette Kelo. And that little house on the shores of New England, lovingly painted pink, was taken from her by eminent domain.
Eminent domain is just a fancy name for the government stealing private property and giving it to a business that might be able to generate higher tax revenues with the same property.
I may live in the middle of the country. But I'm no stranger to eminent domain. My great aunt and uncle were robbed of their home, their antiques, and their life savings by eminent domain. In fighting back they lost more than they would have if they'd simply sold at the first offer. Just like Susette Kelo.
Except, Susette's 8-year battle, which ultimately became the Supreme Court case Kelo vs. City of New London, paved the way for people like my aunt and uncle to be able to keep their house. Or at least get a fair price.
Now her view and the neighborhood were going to disappear. She had consumed eight years of her life trying to hold on to her home. In the final analysis, five strangers in black robes had taken it away—five people who lived in the kinds of neighborhoods where eminent domain would never be a threat.

Anger suddenly overtook her sadness. She had gone to America's ultimate source of justice and found none. Instead, she had been insulted. The city had the power to take her home, and she was powerless to stop it. But if the city thought she was giving up, it was sadly mistaken.

–Little Pink House by Jeff Benedict, pg. 324
In the end, Susette's "victory" meant that her Little Pink House was disassembled board by board, and rebuilt as a historic monument to the fight against eminent domain. She was paid a supposed fair market value, yes. But she was not allowed to keep her land. Even though it was was never developed.
Our own little pink farm house is separated from Susette's by many miles. But with the balance of power ever leaning toward the courts, every land owner could be just one ruling away from facing something similar.
That is why the owners of this little pink house support organizations that fight to help us keep our family farms safe. That is why we cast our votes for officials who still believe in the Constitution.
And that is why we share the story of the other little pink house: because it shows what a difference one [redheaded] citizen can make.