The Thing About (Dairy) Farmers
Farmers wives are privy to a lot of little-known secrets of the agricultural industry. We could tell you how much of a man's self worth is wrapped up in the state of his fields and the color of his tractors (ours are green, except for the Ford that was my husband's great grandfather's). We could tell you that farming requires a lot of patience with a good dose of risk-taking (some farmers are long on the patience, some err on the side of risk-taking). We could tell you about the fields and farming practices for miles around (those are our topics of conversation on Sunday afternoon drives, after all). And we can always, always give you an up-to-date weather forecast for the next week (our city friends laugh at us because we are always talking about the weather).
But the biggest secret of all is that farmers don't learn everything they know at college. Even if they majored in agriculture. Maybe ten percent of what there is to know about farming can be found in school: the rest must be learned from other local farmers. It doesn't matter if you studied all there was to know about planting wheat; nothing can be compared to the wisdom of a farmer who has been planting wheat in the next field over for more than twice the years you've been alive. Whether it's secrets to eliminating an old stand of alfalfa or the cold, hard truth about alfalfa weevil, the other farmers are always glad to share their knowledge. Sure, you have to be careful who you listen to: but one look at their fields and their equipment is usually all it takes for a farmer to know if he can trust advice from another.
The thing is, all this takes time. And it's hardly ever planned. You run into so and so at the feed store and half an hour later you have gained valuable information about your latest farming question. Meanwhile, your wife is at home trying to keep dinner warm, envisioning some horrible accident. Farmers' wives come to expect the delays after awhile. Because if it's not another farmer, it's an irrigation problem. Or a cow that got out. Or a customer that stayed late. So even if he's always an hour later than he hoped to be, we're thankful whenever he walks in the door, because in an occupation like farming, the fear of a horrible accident is very real.
That's why farmers' wives have to stick together. After all, sometimes when our husband runs into another farmer, we're fortunate enough to be out on the town with our husband. So we're always thankful when the other farmer has his wife along. Even if we don't have anything else in common, we share the experience of farming, and that's enough to keep any farmer's wife talking for awhile.
(This page contains affiliate links. Read my full disclosure.)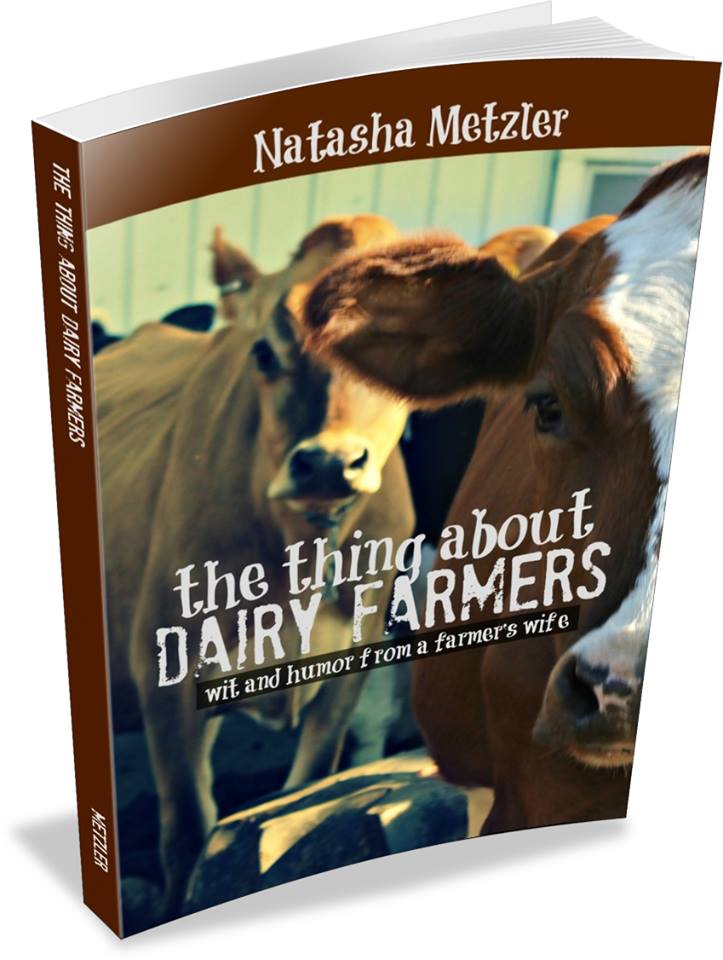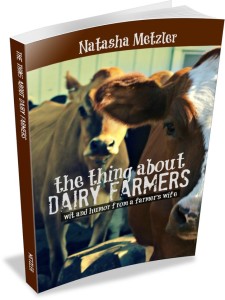 Farmer's wife Natasha Metzler has just come out with a book that every farmer's wife will love. The Thing About Dairy Farmers brings you so up close and personal to dairy farming that you can hear the streams of milk and smell the manure. With tales of kittens and calves, tractors and diamond rings, Natasha digs right into the nitty gritty of life. But the "You might be a dairy farmer if…" quotes sprinkled throughout the book keep you laughing even when the tractor's broken and you're flat on your face in the manure.
The Thing About Dairy Farmers reminded me of all the reasons my husband says he will never be a dairy farmer. (We farm almost everything else.) Of course, Natasha was quick to say that her husband always said he would never be a dairy farmer either. Never say never. Especially when it comes to farming.
But no matter what you farm, there's always something to laugh about. (It's better to laugh than to cry, we've found.) Because everyone who works in agriculture shares the commonality of the dirt and machinery, animals and crops–and a reliance on the Creator of the land and animals we farm. Whether you're in farming or just an interested onlooker, you'll laugh until you cry over these personal anecdotes from a dairy farmer's wife.
The Thing About Dairy Farmers is the perfect gift for the farmer who already has all the Ertl die cast models of John Deere tractors that he needs–or for his wife, so she knows she's not alone. If you know a girl who's considering marrying a farmer, do her a favor and give her The Thing About Dairy Farmers so she knows that her life will never be boring again. Natasha's tales will assure her that she will be able to count herself blessed indeed to be the wife of a man who will care for her as tenderly as he cares for his crops and his tractors. Even if he's never on time for dinner.
Disclosure: I received a complimentary review copy of The Thing About Dairy Farmers, but I may have already bought several copies for gifts. (If you're on my Christmas list, pretend you didn't read that.)