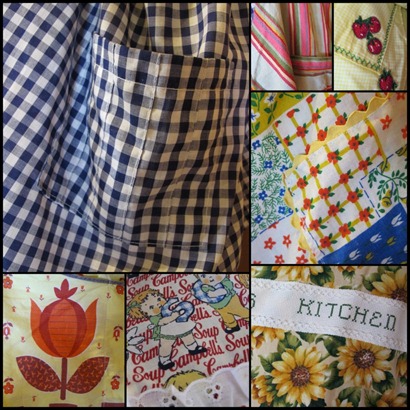 "Felicity…was very nicely dressed in a pink print and a frilled muslin apron."
–The Story Girl by L.M. Montgomery, page 13
"An angular woman panoplied in a white apron so stiffly starched that it could easily have stood alone…"
–Emily Climbs by L.M. Montgomery
"…slipped into the blue calico dress and tied on the crisply ruffled, pink apron."
–These Happy Golden Years by Laura Ingalls Wilder, page 384
Big aprons. Little aprons. Floral print aprons. Striped canvas aprons. Our aprons are as varied as we are.
And the stories behind them are even more numerous than the aprons themselves! I've told stories of aprons of my grandmothers and aprons made by my cousins. I've shown you pictures of my little girls in aprons and my sisters in my aprons. From vintage to modern, each apron is a story and a fashion statement. Now I can't wait to hear the stories of your aprons and see pictures of the pretty prints!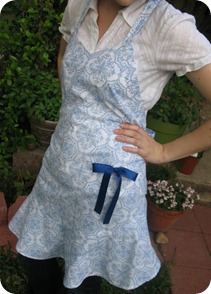 Not only do we want to hear your stories—we want to give everyone a chance to start or add to their own apron collection!
Apron Week Link-Up
"Susan had on a new black silk blouse, quite as elaborate as anything Mrs. Marshall Elliott ever wore, and a white starched apron, trimmed with complicated crocheted lace fully five inches wide, not to mention insertion to match."
–Rilla of Ingleside by L.M. Montgomery, page 4
"Nobody but Miss Cornelia would have come to make a call arrayed in a striped blue-and-white apron and a wrapper of chocolate print, with a design of huge, pink roses scattered over it. And nobody but Miss Cornelia could have looked dignified and suitably garbed in it."
–Anne's House of Dreams by L.M. Montgomery, page 61
"Cecily declared that she hated to go to sleep because she was sure to dream that she was at Aunt Olivia's wedding in her old faded gingham dress and a ragged apron."
-The Golden Road by L.M. Montgomery, page 75
Congratulations to Grace Anna for winning the lovely vintage-inspired apron from Posey Lane!
"She had on a dress of plum-coloured drugget with a large, snowy apron, and she wore it with the air of a queen."
–Emily Climbs by L.M. Montgomery,
Apron Week Memories…
(highlights from your comments)
"I've loved aprons ever since seeing Lucille Ball wear them in "I Love Lucy" (which I watched during my lunch hour when I walked home for lunch from school). They looked so feminine, so glamourous… Aprons seemed to add the right amount of whimsy to the daily grind of housework/cooking. Donning one lightens the load – I swear!" -Gianna Patton
"I've always loved wearing MY aprons, but I thought I was the only girl "of my age" who felt domestic and pretty wearing an apron. I'm so glad I'm NOT the only girl. I'm feeling inspired to make another apron now!" –Elisabeth
"I love aprons because 1. They remind me of my Grandma who is in Glory 2. I am clutzy, so they are vital to me when I cook 3. An apron can tell a lot of stories 4. A well-used apron is often a sign of a good cook!" –Bekah
"I LOVE LOVE LOVE aprons, I have two well worn aprons that were made with much love and care for me. The first one I received when I was 13, when I began seriously dabbling in the kitchen from my Nana, it is pink gingham and almost worn through. The second was made for me for a wedding gift from my sister-in-law, it is blue and white check trimmed with a pink and white lipstick kiss print fabric with a pocket made of the same that is hand embroidered with 'kiss the cook.' I wear one or the other pretty much every day to protect my clothing from the kitchen mess and also from the messes that can happen as a momma of 4 under 5! I would love to have another pretty apron, one that I can wear when we have hospitality or when I am preparing a nice meal for my husband on our 'date night in'." -Michelle
"Currently laying under a quilt made with fabric from my childhood apron that my grandma made for me. What a special, cherished memory I have!" -Claire
"I love how cute and feminine aprons can be…along with keeping food from getting all over your clothes while cooking (especially when pregnant)." –Jessica
"I mainly have Christmasy aprons that I do like to wear during the holiday season. I remember an apron my aunt gave me when I was young and it had a hand towel sewn onto the front of it, very handy for messy or wet hands! I may have to dig that apron out, where ever it is… You have inspired me to get into the habit of wearing aprons!" -Terri
"I made an apron for myself when I was little…it was a little crooked and not very sturdy, but I wore it proudly." -Arielle Salzman
"I love how aprons make you feel freer to get into the cooking and not worry about ruining your clothes… When I wear one, I feel all official, like a serious homemaker. But I'm not." –Jessica
"My mom made my twins sis and me reversible matching aprons when we were only 2. Over the years, they were worn out, covered with paint, messes, flour…you name it! I still remember they were pink and blue and oh so adorable! They are packed away somewhere in our memory boxes…waiting for the day when perhaps we will be blessed with our own daughters. Today, I still wear aprons — mostly for how practical they are but they also make me feel more 'homemakerish' and feminine!" -Samantha R.
"I think my favorite apron memories involve my older brother, who is an avid cook and also fisherman. My mom did have a large apron for him with t-bone steaks on it. But then I found an apron I just had to have for my brother. It showed a picture of a rainbow trout frying in a pan, and the caption said, 'The end of the rainbow.' That was one gift my brother really liked." -Natalie G.
"I LOVE aprons!! My special apron is one from my great-grandmother. I wear it often instead of saving it– I enjoy it a lot more on me than I would in a drawer." –Laura
"I love to slip an apron on when I'm doing house or garden work. My favorite is red and white checkered, and ties beautifully in the back. I made it myself one summer on a whim. It somehow lends an air of grace to any situation." -a farmer girl
"I love aprons, especially pretty ones, because they represent so much: home, love, good meals, a mother's love, family… A pretty apron makes cooking that much more enjoyable!" –Caitlin Baker
"I do love to wear an apron, just makes me feel so homemakerish and attractive. My favorite memory thus far of wearing an apron is when I was cooking for the man I love and he gently placed his hand on my arm and made sweet remarks about my apron… oh how I hope to someday wear an apron for him every day of my life!" -Kate
"I like aprons because my husband REALLY likes them." -Melissa B.
"I have always loved wearing my mother's apron. Frilly, feminine aprons make kitchen work so much more fun and make me feel fulfilled, somehow." –Lois
"I adore aprons! Practically speaking, they keep your good clothes in good condition! But they just make me feel delightfully old-fashioned and ladylike when I wear them." -Melea Bulkley

"Diana…wore her afternoon pink print and a lawn apron fearfully and wonderfully ruffled and frilled; and very neat and pretty and rosy she was."
–Anne of Avonlea by L.M. Montgomery, page 251