Merry Christmas, from our family to yours!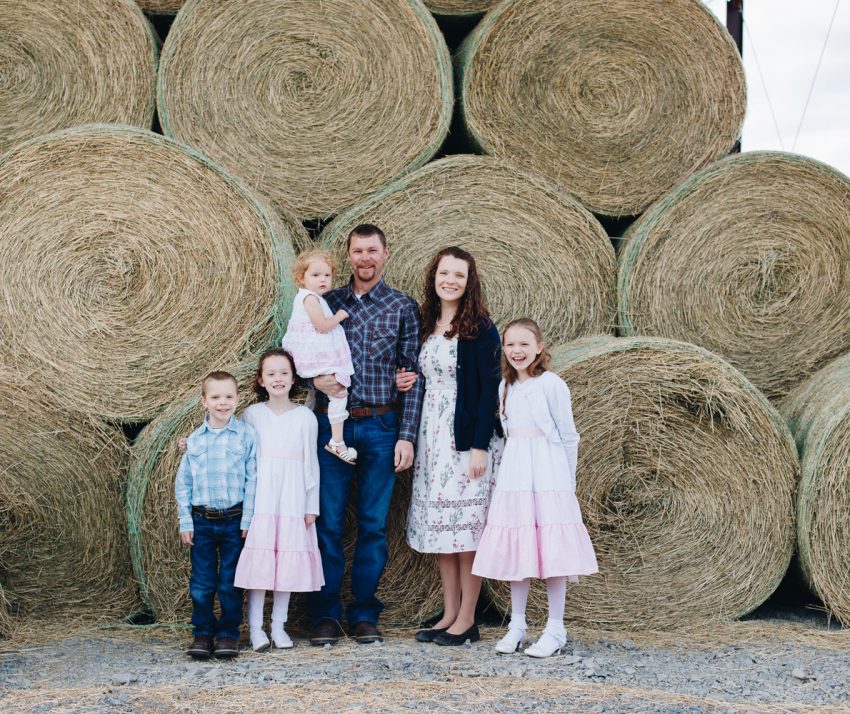 Dear Everyone,
My name is Sara. My family calls me Sara Bear or just Bear. Sometimes they try to call me other things like Cutie or Pumpkin or something silly like that. But I always remind them, quite emphatically, "I'm Sara!"
This year was a busy one for me. I had to help Daddy with a lot of the work on the addition to our house. I watched him put in all the tile in the master bathroom. He figures that I'll be able to do the next tile job all by myself. Once we got the tile done, Daddy and Mommy were able to move into their new master bedroom—along with me, of course. I'm their favorite third wheel, they say. But I'm looking forward to sleeping with my sisters in their new room when I get bigger.
As soon as Daddy and Mommy moved out of their old bedroom, we cleaned it and painted it (I wasn't allowed to help with the painting process, even though I'm quite sure I'd have been good at it). Then we moved my big sisters right in. They love having their own room. And Daniel loves having a room all to himself. Most of the time. I play Legos and trains with him when he's feeling lonely.
Then came summer. And two weddings. I got a new aunt and a new uncle, all in one summer! Mommy's sister Auntie Jessica married Uncle Joe in June. Mommy's brother Uncle Caleb married Auntie Hannah in August. (Not to be confused with my other Auntie Hannah who is married to Daddy's brother, Uncle Mason!) I got to wear two very pretty dresses. I walked right down the aisle in Auntie Jessica's wedding. And in Uncle Cake's, I got to ride in a wagon pulled by Mary! (Daniel got to drive a John Deere pedal tractor down the aisle!) It was fun to have two beautiful weddings and see my grandparents and great grandparents and so many of my cousins and second cousins. But I like home best.
This year, Daddy and Mommy worked at farmers market together once a week. Mommy liked that because it meant she got to spend a whole day with Daddy. And I liked that because it meant I got to spend a whole day playing at Papa and Nanna's house with my siblings. Daddy worked at another farmer's market, too. And in the fields a lot. But in his spare time, he kept working on our new addition. Sheetrock takes a long time. And it's very, very dusty.
But the kitchen cabinets are in now and Mommy's office is painted. I like to watch my daddy work and tell him, "Good job, Daddy." I can't wait until we get flooring and countertops and can move into our beautiful new kitchen and living room. It's very exciting. Another reason I'm looking forward to it is that when we move out of the old part of the house, I'll have a great big room just for playing in with Mary and Ruthie and Daniel.
Ruthie had a birthday last month and turned ten years old. She'd rather be reading a book than almost anything else. But she does help Mommy with the laundry and dishes—when she's not reading or drawing or writing letters to her pen pals. Mommy was glad to let Ruthie and Mary take care of sorting and hanging out the laundry this summer. I helped, of course. Ruth can't choose between Love, Mary Elisabeth and A Really-Truly Princess as a favorite book this year so I guess I'll let her have two favorites.
Mary turned eight years old on the day Uncle Cake married Auntie Hannah. (They even had a birthday cake for her at their rehearsal.) Mary likes to play dolls with Ruthie and me. She and Daniel also have lots of fun playing together outside—when they aren't fighting. (Mommy said she and her brother learned to be friends. I think Mary and Daniel are working on that.) Mary is learning to read so well. I'm excited that she can read me Dick and Jane books now. We all like listening to audiobooks together. Mary's favorite audiobook this year is Story of the World Volume III. But she also really likes the same books Ruth chose! Does that mean Mary has three favorites?
Daniel likes working with Daddy. He spent lots of time this year helping Daddy in the garden and in the fields and in the wood shop. Daniel loves me. And I love him. We still fight sometimes, though. Daniel's favorite thing to do is to draw. Sometimes I draw on his pictures without asking. But mostly I admire his art. We all love to draw together but I think Daniel likes it most of all. He is a math whiz. We like playing Dominoes with Daddy; Daniel always has his score added up before anyone else. His favorite book this year is Swiss Family Robinson.
And then there's me. Daddy says that once I started talking this summer, I haven't really stopped. I'm two and a half years old but my favorite number is three. I'm good at telling my big siblings what to do. But I'm also good at listening. If Mommy asks one of my siblings to do something, I jump right in and help. I like clapping and singing and dancing. I like snuggles and hugs and kisses. I like to count the stairs as we climb them. I like the new light fixture in our stairwell. (I spent months wondering aloud how Daddy would get it up there, but he did! He's amazing.) Mommy says I'm getting so big. My favorite book is whatever anyone will read to me.
Mommy worked a lot this year. I helped her out by taking good naps and playing with Ruthie and Mary and Daniel. But I'm glad that, even though she's working, she's still right there when I need her. I tell her, "Hold me 'ever, Mommy." When she mentions I might get big, I explain: "Nope. Stay tiny. Yep. Hold me 'ever." She helps people with their websites. Sometimes she helps authors with their self-published book projects, too. And she takes care of me. I love my mommy.
Daddy worked all the time this year. He built a brand-new barn to store all the hay he plants, waters, fertilizes, cuts, rakes, and bales. I love riding in the tractor with him. "Ask Daddy turn?" is one of my favorite questions to ask when I know he's on the tractor. Usually I fall asleep in the little seat next to him. But I'm always sad when he drives off on his Gator and I can't go with him. It's hard to be the littlest sometimes. And it's very hard to understand why Daddy doesn't need my help every time he goes to work. My first full sentence was, "Dadda is home." I love my daddy.
We have kittens! Daddy rescued them after someone dropped them off at our farm. I love them (but I still don't like our big cat Midnight). The kittens took naps with me before they got so big they had to stay outside. "Me like kittens on my lap. Them so soft." And we have a swing set! I love to swing. I'm learning the poem by Robert Louis Stevenson about going up in the air so high.
And that's us.
"Jesus, thank You that we all healthy! Thank You for new house. Thank You for Ruthie and Mary and Daniel and Daddy and Mommy. And Jesus, thank You for Christmas! I love You, Jesus!"
Love,
Sara
P.S. Our family photo is by my Auntie Hannah.