My husband's grandparents were one of the first to build on the hill. But like the little house in the storybook, the city grew up around them. Their ocean view has diminished to just a slice outlined by two palm trees out the dining room window.
But every evening, Grandpa would hobble through the kitchen at just the right time and point to the window: "Look at that pretty sunset."
And it was pretty. Beautiful, in fact. It had to be, for the man of few words to still think it worthy of comment. Even after more than sixty years of the same view.
I thought I might get a bit jealous of the salty air blowing through my hair, the music of the waves, and the endless stretches of beachfront.
But after a week of the traffic and the people, I was ready to go back home. And that first morning we woke again to the sun on the snow in the hills, my husband and I could be found staring out our windows a bit more than usual.
"Grandpa and Grandma can keep their ocean view," I told him. "I get to look at this."
Here "where my heart had settled long ago." Here where there are mountains and snow, green grass and rolling hills. Here where we have thunderstorms before bed and rainbows before breakfast.
And Lord willing that we're still here in sixty years, I hope I'll still be exclaiming over the view out my own kitchen window. Just like Grandpa.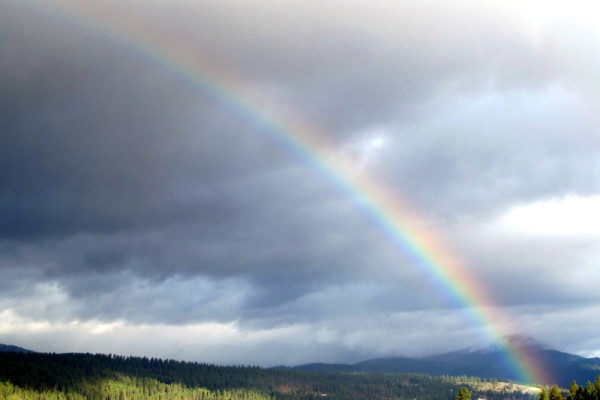 {Five-Minute Friday Writing Prompt: "Here"}