I'm looking forward to pulling off my socks and hauling a heavy basket of wet clothes out in the warm sunshine, wrestling the sheets against the wind, shoving the pins down hard, and hoping things stay put 'till they dry.

Few of my household tasks are as pleasant as hanging the washing out for the first time each spring. Yes, I am a country girl; first a farmer's daughter, now a rancher's wife. I love hanging out the washing. I've done it in all weathers. One of my earliest memories is that of hanging my Raggedy Ann's aprons and dresses on the clothesline while my mother hung out the washing. I have no idea how it was constructed, but I remember a line just my height strung below Mom's clothesline.

-Ruth Wiechmann in "Hanging Out the Washing"
from "My Clothesline",
written in 2007
Each time I hang out clothes, I think of Mrs. Taylor, and what she shared at my bridal shower. She told how in their twenty-some years of marriage they'd moved many times, her husband had changed careers, but the one thing that always stayed constant was her clothesline. No matter where they were, she remembered, Mr. Taylor always hung a clothesline for her. And she cherished that peaceful time of hanging out the clothes—the fresh air, the sunshine, the moments with the Lord.
I remember Mom's clothesline, at the little house where we grew up. It was actually the neighbor lady's, but she let Mom reach over the fence to use part of it. At our second house, there was a nice long clothesline out in the back yard. I got a bee sting on my finger when I absentmindedly grabbed a clothespin an innocent bumble bee had been using to take an afternoon nap.
And I remember the thrill it always gave me to hang Merritt's clothes out on the line, when I helped his mom and sisters with the laundry. It took me a while to learn how to hang out laundry as well as the women in my husband's family. They've hardly ever used a clothes dryer. In fact, for a while Merritt's mom used an old-fashioned washboard to clean their clothes.
When Merritt and I were in the flurry of pre-wedding shopping, we spent hours in appliance stores looking at refrigerators and washing machines. We considered not even getting a dryer, but now we're glad we ended up with the stacked washer/dryer combo. Because the first time I tried to hang out clothes on drying racks inside our little house, I discovered that I had to keep the house at least 80 degrees all day long in order to get the clothes dry! Not to mention that our little two-room home doesn't have much free space for clothes racks to stand.
But we're done again with the lint and buzzing dryer for the year. My clothes are out on the line, swaying in the wind. (Up here on our little knoll, the strength of the breeze always seems to make up for what the sun lacks in warmth.) Our kitty Wooster stood guard under the clothesline all afternoon, watching with great interest the movement of the jean cuffs so close to his head.
(click here to read the full post written during my first year of marriage)
---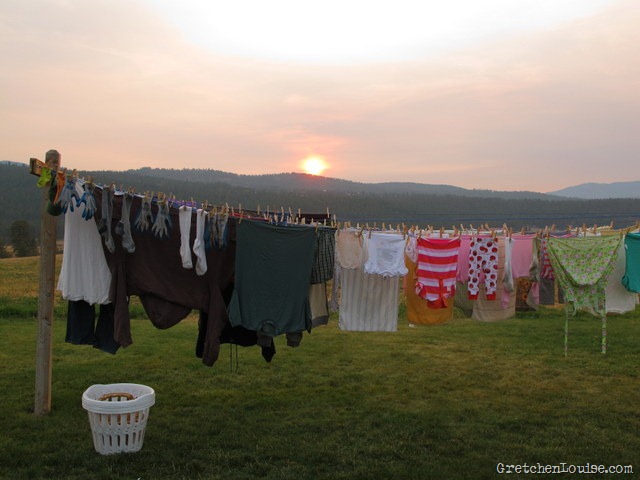 I can now count six summers of hanging out my family's clothes on the line. Six summers, two clotheslines, three children, and one farmer mechanic husband with a lot of dirty clothes. Hanging out the wash may have lost a bit of the romanticism due to the sheer volume of laundry, but it has lost none of the beauty. Yes, the laundry piles may overwhelm me at times. Yes, there are some springs I hesitate a bit before I decide to start using the clothesline again. Yes, I often wonder if all my laundry will ever again be clean and folded all at once.
But when I'm actually hanging the clothes out on the line, I remember all the reasons I love this summertime ritual. And I'm walking down memory lane at the sight of the clothes I was just washing for big sister—or seeing my own little sister wear. The little guy's clothes are getting so big so fast, and those manly little outfits make me think about how much he resembles his daddy. And my husband's socks remind me of all I have to be thankful for, since there was that day early in our marriage where he almost lost his leg, and I was but a few inches away from becoming a widow.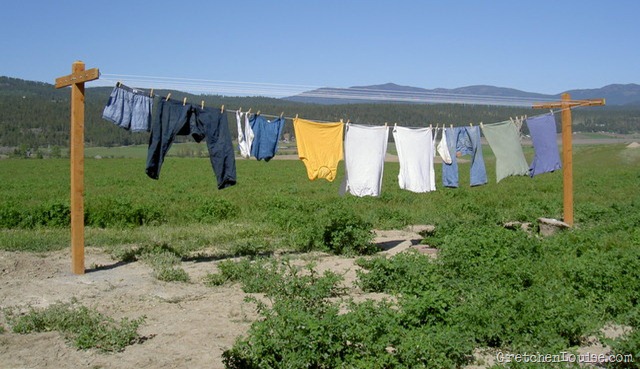 The clothesline itself, built by my husband's own two loving hands, is filled with memories. Of my Papa tightening the line for me when he came to visit. And that day somewhere in our second summer when Merritt found me at work to tell me that my first clothesline had buckled under the weight of its load in the wind, dirtying all the clean clothes that had been on it. Of course, we'd have outgrown that first umbrella style clothesline soon anyway, even if it hadn't proven itself unable to stand up under our wind. But the new one my husband built has withstood countless loads of laundry on innumerable days for five summers since.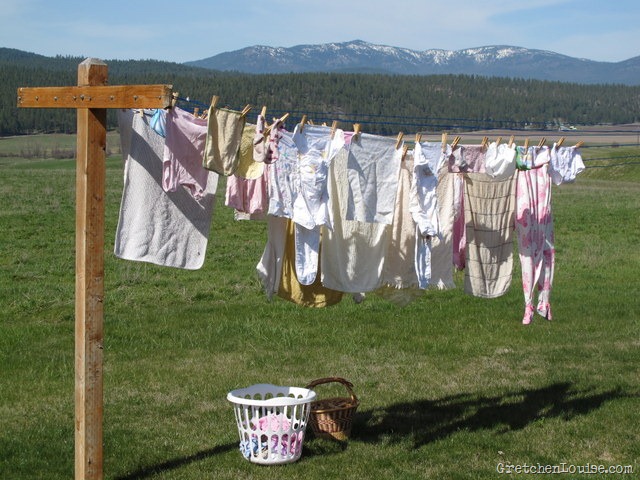 Of course, there were the weeks in our third summer when we couldn't hang out laundry on the new clothesline while the grass grew underneath. But we hung clothes on a temporary turned permanent line under the carport. It was worth the wait — and the reduced clothesline I used the while — not to have to try to trek through mud just to hang out the clothes. And now we look at pictures and realize all we've built since that day he knelt on one knee in the middle of this alfalfa field and asked me to be his wife.
And the little ones we've born since, that used to be content to be tied close to Mamma or to sit on the ground playing with clothespins are now running at top speed throughout the yard, the youngest climbing the slide in less time than it takes me to hang up two items of clothing. But once in a while, they ask me to "hang up some shade" again, and I can picture that they're still little, still learning to talk and walk and pick up the clothespins they've spilled.
Yes, the memories, they make hanging out the laundry a time of counting the gifts, counting the blessings He has given. One clothespin at a time.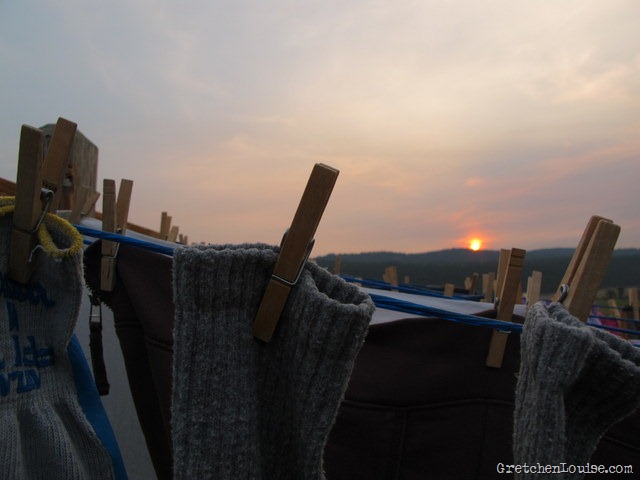 As soon as the sun starts getting higher and the snow starts melting, a certain, old feeling creeps into my heart. Its that "hanging out the wash" kind of a feeling, and as soon as it is possibly warm enough to just maybe dry instead of freeze the clothes I've hung out to dry, the urge to get my basket, apron and pins and hang out a load or two becomes hard to resist.

Hanging out the wash to dry has always been one of my favorite chores. I'm not sure if it is the good feeling you have inside, standing out there in the fresh air, or the wonderful, wonderful smell of air-dried towels and bedding that makes me love it so much, but whatever it is, I do think I would hang all my wash out to dry. Except, of course, for that small detail of not actually having a clothesline yet.