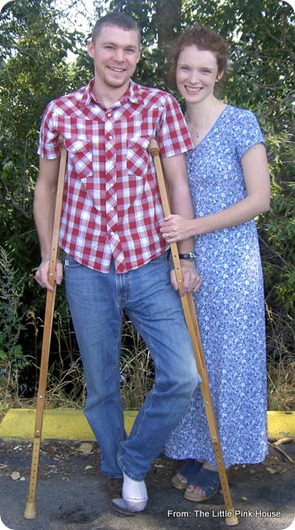 Dearest,
Every year about this time, it all comes flooding back to me. The reality of how close I came to the loss hits me full force.
The loss of you…my then-newlywed husband, my best friend, the father of our then-future children (whom I already knew would have reddish blond curls!).
You laugh when I entreat you to be oh-so-careful today. No, I'm not superstitious. (Even though I'll never let you weld on Marlys' birthday again!) It's just a lot of déjà vu each year.
Walking those same sidewalks where I was when I watched the ambulance go by on its way to you. Buying coffee at the same little coffee shop Marlys bought me an iced mocha that morning. Visiting all the sales I never got a chance to that day.
I call you too many times. Just to hear your voice. To make sure you're still okay.
Just a few seconds of remembering and I'm reliving it all. Your brother and Uncle Bill showing up to get me, so hesitant to tell me. The drive home I don't even remember. My new father-in-law assuring me you'd be okay. The long drive to the hospital. Finding you in so much pain. Praying with you before you went into surgery. Begging you to keep breathing.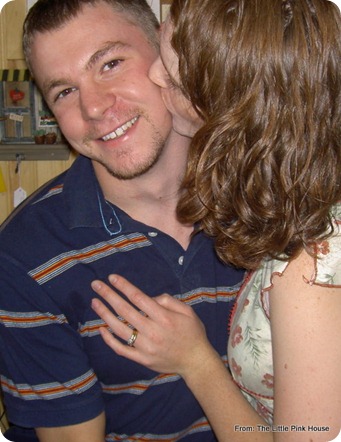 I'm ever-so-thankful when we all get home safely Thursday night and we're sitting in bed, me rubbing your sore ankle. Not that this Thursday of July is any more dangerous than any other Thursday of any other month. Each day is a gift. Some days, I'm just more aware of it than others.
Some days, I'm remembering how I ran over to you for one more kiss that morning. And that memory makes me race back to the door for one more kiss. Because we never know when it might be the last goodbye.
So thankful for the five years — and many kisses — more we've been granted together, by the grace of God…
Love always,
your girl
---
Five years ago, two short months after we'd been married, my husband was welding on a fuel tank when it exploded, shattering the bones in his left leg and burning his arm. We are so grateful for God's protection (it could have so easily taken his life), healing (his leg still bothers him some days, but he can run again!), and provision (through Samaritan Ministries and the family of God). Here are the posts originally published on ylcf.org chronicling the story:
(this post was written for the Five-Minute Friday Prompt: Loss)